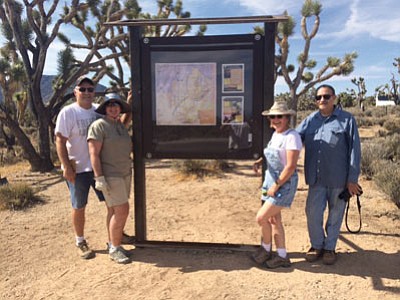 Originally Published: July 9, 2015 5:45 a.m.
Belles of St. Mary's: We saved a "funny" for the Fourth of July issue and then forgot it, sorry. Here we go - "What did one flag say to the other flag? Nothing. It just waved." Pretty good, yes? Our church set aside Monday to remember the Prophet Isaiah. He preached in the Kingdom of Judah and at Jerusalem under the kings Uzziah, Jotham, Ahaz, Hezekiah and Manasseh in the 700s B.C. His prophecies made frequent reference to the coming of Christ, with allusion to the Passion. You kids who carry the name Isaiah are blessed with a real role model. The Belles are quite busy with last-minute details vital to the Aug. 1 mountain picnic. Help is always welcomed but attendance is the measure of success. Did you clip the great ads in the church bulletin re: the picnic - good job! On July 26 the Belles will gather after 9 a.m. mass at Calico's for our annual commemoration of Saints Anne and Joachim, parents of Mary, Most Holy. St. Anne is our patron and we invite you ladies to join us and make plans to help us do the Lord's work. That invitation is also extended through St. Vincent de Paul Society; we need your time and talent (the treasure is YOU!). Free Concert in the Park (Metcalfe) July 19. Let's all make plans for 5 p.m. enjoyment in beautiful downtown Kingman.
Conservative Republican Club of Kingman: For our next meeting, which will take place from 11:15 a.m. to 1:15 p.m. July 20 at the Dambar Steakhouse, I thought we would, in the lazy days of summer, do something a little different, which I'm sure most everyone will find fascinating. I have invited Jonathan Kraft, the founder and owner of the animal sanctuary just outside of Kingman (at milepost 87 on Route 66 in Valentine, to be exact), Keepers of the Wild, to be our guest speaker. As many of you know, Keepers of the Wild was recently approved to build a second, larger sanctuary just north of Kingman, just off the road to Las Vegas, slated to open at the latest in 2018. I'll let Mr. Kraft tell you how he came to open the sanctuary, and he will be delighted to answer questions. Very briefly, however, the sanctuary opened in 1995 and all of the animals there are rescues. Mr. Kraft is a native of Holland who grew up in Canada and moved to Las Vegas, where he was heavily involved in the entertainment industry on the Las Vegas Strip for many years, all the while becoming more involved in rescuing animals. The sanctuary has flourished in recent years, and contains a multitude of tigers, leopards, bears, coyotes, wolves and other animals. I myself have visited on a number of occasions (including this morning - one of the tigers was eyeing me carefully, I think he mistook me for "Tiger Chow") and I can't wait to hear more about the expansion and Mr. Kraft's oh-so-interesting life and career. As always, our meeting is open to the public and no reservations are necessary. The meeting costs $3, with lunch optional and on your own. Membership in the club is $12 a year ($6 for the remainder of the year if you join now), and we'd be delighted as well to have your suggestions for speakers and we still have a slot or two open for officers in our growing club.
Kingman AZ Computer Users Group invites you to join us this from 2-4 p.m. Sunday at the Kathryn Heidenreich Adult Center, 1776 Airway Ave., Kingman. For more details, see our website: http://www.kingmanazcug.com.
Kingman Elks Lodge No. 468 meets every second and fourth Wednesday at 7 p.m. The Summer Bash is at 6 p.m. Saturday. Tickets are $12 per person, dinner is chicken kabobs, homemade potato salad, macaroni salad, baked beans and fruit. Sherry White will be singing in the main dining room, there will be a 50/50 contest and a gift basket contest. Proceeds will go towards local Elks scholarships.
Kingman Pinochle Club: The results for the July 4 games were: first place, Joann Brown; second place, John Goryl; and third place, Bob Bennett. For more information about the club or to come and play with us, call Connie at (928) 681-4934 or Pat at (928) 692-8468.
Mohave Arms Collectors Association: The MACA held a World War II theme for their June meeting. They had many WWII-era accoutrements and firearms. MACA's meeting is the last Thursday of the month at 6:30 p.m.; the theme of this month's meeting will be "The Genius of John Browning"; doors open at 5 p.m. for buying, selling and swapping (first liar doesn't stand a chance). MACA is a group of firearms enthusiasts who normally meet the last Thursday of the month in the clubhouse of the Mohave Sportsman Association rifle range, located at 3155 N. Oatman Highway. For further information, call (928) 681-4476.
Mohave County Genealogical Society decided to have the Arizona Genealogy Advisory Board present a program from 9 a.m. to noon Nov. 7. We will be looking for a meeting site for the presentation. Andi will get a list of topics to choose from. Those present voted to purchase 10 new books for our library. The subjects cover the colonial era from North to South, tracing ancestors from Europe, finding women ancestors, and separating fact from fiction. Averil gave Jan's presentation on preserving family photos and heirlooms as well as how to find relatives interested in inheriting one's research. Bobbie is our presenter for July. We welcome anyone interested in tracing their family trees no matter how experienced. We meet every second Wednesday of the month at 1 p.m. at the Mohave County Museum of History and Arts, 400 W. Beale St, Kingman. There is no museum fee when attending the meeting.
Thursday Party Bridge: The winners for July 2 were: first, Coie O'Malley; second, Sylvia Goryl; and third, Gladys Smith.
Wednesday Party Bridge: The winners for July 1 were: first, Shirley Lantz; second, Barbara Gracin; and third, Leo Martenson.
Whistle Stop Railroad Club: The Kingman Railroad Museum is a cool place to visit these hot summer days! So come and see the museum the Railroad Club has created and operates for the city. Better yet, come to our next club meeting at the museum at 9 a.m. July 18 and find out more about us. Potential new members and museum volunteers are always welcome. In addition to railroad artifacts, historic displays, and memorabilia, the museum has three exceptional model railroads, all of which can be seen in operation. Club members are train fans and model railroaders with the purpose of preserving railroad history through the operation of the Kingman Railroad Museum at 403 E. Andy Devine Ave. in the restored Santa Fe Railroad depot. It is open 9 a.m. to 5 p.m. Wednesday through Sunday. For more information, call the museum at (928) 718-1440, visit our website, www.whistlestoprailroadclub.org, or see us on Facebook.