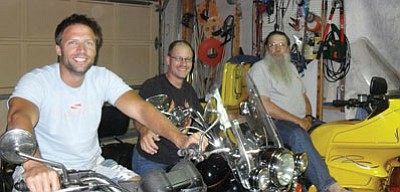 Originally Published: July 10, 2015 5:45 a.m.
To a person, everyone who knows Sidney "Sid" Cranston agrees on these three things: Cranston is almost always the smartest person in the room, he is quirky and loves life - and he is not the kind of person who would vanish without a trace without something sinister happening to him.
But vanish he did at about noon on June 16. The real estate agent and civil engineer, 40, was last seen at Interstate 40 and Stockton Hill Road.
It took detectives with the Kingman Police Department a few days to get involved, something that people who know Cranston feel a bit angry about, but they also understand.
"It's not illegal for adults to just go away without telling anyone," said Chris Cranston, Sid's younger brother.
"They didn't come talk to me until nine days after he disappeared," said Dawn Brannies, Cranston's friend and former boss at the real estate company she owns. "But we understand how these things work. People go missing all the time. That doesn't mean something bad happened to them, but Sid's disappearance is different."
To the department's credit, detectives took the disappearance more seriously than they might have if the missing person was known to suddenly leave without telling anyone or was motivated to get out of town.
In fact, the search is a top priority.
"Our investigators are diligently pursuing all leads and handling the case as a criminal matter," said Chief Bob DeVries. "It is one of the cases that is discussed at the beginning and end of their shifts to ensure a broad-scope investigation."
A man in love
Cranston went missing 24 days ago today. In interviews and less formal conversations with Cranston's friends and family, familiar themes regarding who he is came to the forefront - and all of them paint a portrait of a man who had every incentive to stick around: He was a man in love. Cranston was engaged to Luna Danzante - Moon Dancer - a woman who lives in southern Mexico and from whose home he returned to Kingman for an important meeting scheduled for the day he went missing.
"He loved her," said Brannies, the owner/broker of Kingman Premier Properties. "He was working to get her a fiancée visa."
Cranston owns more than 40 properties in Mohave County, and he collects rental payments on a few and purchase payments on others.
He owns Done Right Engineering, a successful civil engineering business in Kingman and he has been a licensed real estate agent here since 2005.
"He was happy," said Brannies. "Sid was responsible. He wouldn't disappear without a trace. He wouldn't do that to his family."
Cranston worked at Brannies' firm from 2010 to 2014. He still worked out of her office, but only on deals that involved his own properties, as he had taken to traveling through Mexico.
While investigators attempt to piece together clues that hopefully lead to a happy ending, Cranston's colleagues and relatives are prepared for the worst. Perhaps subconsciously, they refer to him in the past tense.
"My gut feeling? I think he was killed by somebody who thought he had some money on him," said Chris. "I don't want to be negative, but the simplest answer is usually the right answer in these types of scenarios."
No signs of stress
Chris, who owns a North Carolina-based flooring company, had spoken to his brother at about 10 a.m. the day he went missing. He said they talked for a while and there was nothing to indicate his only full sibling was in distress.
"He had a septic tank issue and I think a zoning issue we discussed, but there was no hidden message that he was thinking of doing something. No 'you've been a good brother' or any of that," he said.
Brannies said Sid spent 21 hours on a bus trip from Mexico to Kingman in order to meet with city officials over a failed septic tank. She said the city wanted Cranston to hook into the city system, but because the lot was on a corner they wanted him to pay $30,000 to extend piping down both sides and wait for reimbursement from future neighbors.
"He didn't want to do that," said Brannies. "He asked them to either let him put in a new septic or let him pay only what it would cost to bring it to the home. Believe me, he wasn't going to miss that meeting for anything."
There were more serious problems at Cranston's properties than a potential $30,000 sewer hookup charge, however. He owned a home he was selling on Hodges Road in the Riata Valley area that had been completely remodeled, said Brannies, before thieves struck not long before he disappeared.
"It sat for a year, but the day escrow closed the home was stripped," said Brannies. "They took everything, even the toilets."
Two days after Cranston went missing, somebody came back for the carpeting and water heater.
Police aren't sharing their leads, but that hasn't kept speculation down. Some of it is intriguing.
Suspicious activity
There was a tricked-out white SUV a neighbor said slowly cruised up and down the street before Cranston spoke with the occupants. The neighbor did not see Cranston leave in the vehicle - but he didn't see him go inside the Hodges Road home, either. Later, two young men described as Hispanic in appearance pulled up in a black sedan and briefly spoke with Cranston as well.
Brannies speculates Cranston might have surprised the thieves and things went bad in a hurry. As someone who sold land and carried the buyer's loan, Cranston sometimes had to evict people for nonpayment, but Brannies doesn't remember any incidents with angry clients.
Chris said his brother didn't have the greatest people skills, but he wasn't belligerent.
"He could rub people the wrong way and not even know it," said Chris. "But he wasn't pissing people off enough they would want to kill him."
Brannies, like Chris, last spoke with Cranston on the day he vanished. He was in the office getting zoning documents notarized. They had a more relaxing time two days earlier, when Cranston spent a lazy afternoon at the Brannies' home, swimming and drinking beer with Brannies' husband.
"He was so happy. He was excited to get married," she said.
He had a love for life
While far from a social butterfly, Cranston worked out at 3 p.m. almost daily at the Kingman CrossFit gym downtown. The former high school wrestler played pool in a couple of bar leagues, but most of the time he was working for his company, selling his property and going to Mexico to visit Danzante.
And he knew how to make money. According to Chris, his brother always had at least two sources of steady income.
Al Blanco manages Cranston's rentals and had collected about $1,600 the day Cranston went missing. Cranston had that in cash in his pocket, and he might have had another $2,000 thanks to a land transaction, but nobody knows if that deal came to fruition.
In any event, the circle of people who were aware Cranston was carrying a fairly significant amount of cash was very small, and all of them have been good friends for the past decade.
Brothers' bond
Memories of riding motorcycles and a happy childhood spent in New York state have flooded Chris's mind.
"He was probably the smartest guy I ever knew," he said. "He had a lot of love for life and lots of energy. He couldn't sit still."
The men's father, Sid senior, is "doing okay under the circumstances," said Chris.
"He's a very devout Christian and he's been doing a lot of praying. As for me, I haven't given up hope. But this has been torturous."
Related Stories