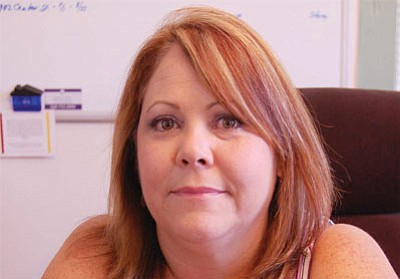 Originally Published: July 10, 2015 5:45 a.m.
KINGMAN - There have been a couple of times when Realtor Dawn Brannies felt uneasy meeting a client in the middle of the desert, miles from the nearest neighbor, to show an empty home for sale.
That's why the designated broker at Kingman Premier Properties provides real estate agents with flashlights, Tasers and a smart phone application called "Be Safe" that activates an alarm and alerts the office or police if the agent is placed in a threatening situation.
Some agents have permits to carry firearms.
"Yes, when we are in rural areas with no one around for miles, we feel vulnerable," Brannies said Thursday. "Vacant houses pose a threat as we never know if squatters or transients have broken into the homes."
Brannies was the first to alert the Daily Miner about real estate agent Sidney Cranston, who once worked in her office and has been missing since June 16. He was reportedly going to meet a client regarding the sale of land he owns in Kingman and Golden Valley, but never showed up for the meeting.
It doesn't matter if you're a 6-foot, 250-pound man or a 5-foot, 100-pound woman, real estate agents have to be aware of their surroundings and take precautions, said Lauri Barker, 10-year real estate agent with ReMax Prestige Properties in Kingman.
She's gone to a few remote areas where homes were in foreclosure and had been trashed.
"You have to be careful walking into that and I felt there could be someone in there because the property was vandalized," Barker said. "You have to check all the rooms and be aware of the closets. You just have to have heightened awareness when you're alone."
Barker said she had a listing for a manufactured home that had a shed in the backyard with a mattress. Since it was winter, she had a hunch someone was living there.
"I sure don't want to meet up with them. You just have to be aware of these things," she said.
As a precautionary measure, Barker said she might suggest taking separate cars when meeting a client in a remote area. She'll take a picture of the car's license plate and send it to her office.
She also leaves a list of properties she'll be visiting that day with her receptionist and the order she'll be showing them.
"With Sid and other people, it depends on what someone wants. It doesn't matter how safe you think you should be. It's always best to have them come by your office," Barker said.
Realtors are independent contractors and don't have employment mandates such as checking in and out with the boss, Brannies said. They're urged to tell someone in the office where they're going, introduce clients to other agents and get a copy of their driver's license.
"In Sid's case, he could have told his friend he saw last where he was going specifically and who he was going with," Brannies said. "The friend could have stayed with him until he met the clients and viewed the clients and their vehicle. Sid could have been taken at gunpoint. We just don't know. We don't know what specifically happened that day, so it is hard to say it could have been prevented."
It's unfortunate, but every year real estate agents are raped, robbed and murdered. A 27-year-old Iowa woman was killed last year showing a home, a Texas Realtor was raped and stabbed in 2010, and a Denver Realtor was raped while showing a home in 2006.
Safety tips for agents:
• Ask for a copy of the client's driver's license. Inspect it carefully and know how to spot fake IDs in the state where you live. Criminals have been known to provide fake IDs to agents in their offices, plotting to attack them later.
• Have someone note the make, model, color and license plate of the prospects' car when they leave to see properties with you. Make sure the office knows your car as well. It's okay if the prospect sees that you're doing this. Let someone else be the easy mark.
• Take your own car. Have the client follow you.
• Leave your property itinerary with the office, with the addresses of the properties you plan to show, each day.