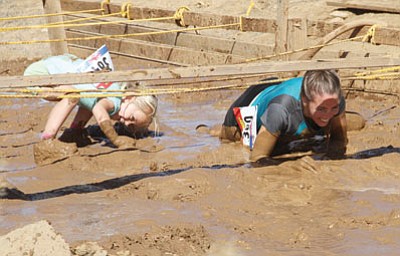 Originally Published: July 13, 2015 4:35 p.m.
KINGMAN - The Fourth Annual CamBam (Complimentary Alternative Medicine) race was held at Mohave Community College Saturday to raise money for people who can't afford chiropractic, massage, or acupuncture therapy.
Several sponsors helped the event put on by the CAM Committee, a charitable arm of the Kingman Regional Medical Center Foundation. Barbara Jones directed the event this year.
About 100 people participated, facing obstacles that included tire runs, mud, and other challenges. There was also a 5K Bike race.
Those who are interested in helping can send checks to the KRMC Foundation and specify the donation should go to the CAM Committee. For more information, call (928) 757-2101.