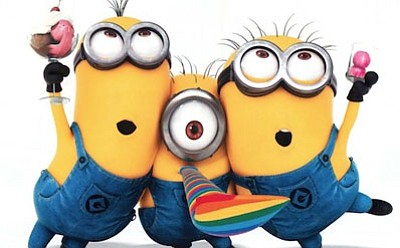 Originally Published: July 13, 2015 6 a.m.
Minions, the fun little creatures with the made-up language from the 'Despicable Me' films, now have more than just their own Internet meme, they have their own movie. Whether you're 8 or 80, chances are you're aware of the minions and their love of singing, dancing, and, of course, ba-na-nas!
Centered around three minions: Kevin, the brave leader; Stuart, the funny, rock-n-roll lover; and Bob, the baby-ish, naïve one; the "Minions" movie tells the story of the origin of these weird little beings, answering these questions:
• Where did they come from?
• What did they do before working for Gru?
• And, most important, will I be able to sit through this 104 minute monstrosity with my kid without wanting to blow my brains out by the end?
Personally, I think the answer to the last question is a resounding yes! This film is fun and, as I said before, you're probably aware of the minions and their quirky brand of humor by now, so you should know, going into this movie what you're getting yourself into.
It's got all of the moments you're used to from the minions by now: cross-dressing (or just dressing up in women's clothes, as they appear to be androgynous), song and dance numbers, and a deep-seated obsession with bananas - plus lots of other laugh-out-loud moments that all ages can enjoy.
Boasting a surprisingly star-studded cast that includes Sandra Bullock, John Hamm, Michael Keaton, Allison Janney, and Geoffrey Rush, this film tells the story of the villain the minions considered working for before finding Gru (the villain and main character of the 'Despicable Me' movies). The villain they find is Scarlet Overkill (Bullock), who instructs them to steal the Queen of England's crown, in the hopes she will one day rule England. She's crazy, the minions are inept, and the whole movie is a lot of fun.
With a PG rating, you don't have to worry about inappropriate humor or language for the kiddies. I give it 3 out of 4 miners.
More like this story