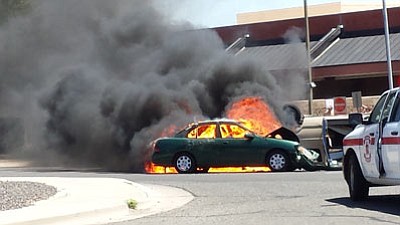 Originally Published: July 13, 2015 12:33 p.m.
KINGMAN - One car caught fire and another vehicle flipped upside down Monday during a wreck at Johnson Avenue and Stockton Hill Road.
Kingman Police and Kingman Fire personnel responded around 11:20 a.m., and traffic was blocked for about an hour.
According to police, William Eugene Shelley, 80, of Kingman, was driving a tan 1993 Dodge van when he turned north on Stockton Hill Road from Johnson Avenue - and into the path of a green 2002 Nissan sedan traveling south.
The crash's impact caused Shelley's vehicle to turn over on its roof. After the collision, the Nissan caught fire and was fully engulfed quickly.
The driver of the Nissan exited her vehicle with minor injuries, and witnesses at the scene helped Shelley from his vehicle. Both were treated and released from Kingman Regional Medical Center with minor injuries.
Shelley was cited for driving on a suspended license, an insurance violation, and failure to yield at a stop sign. Both vehicles were disabled and were towed away.