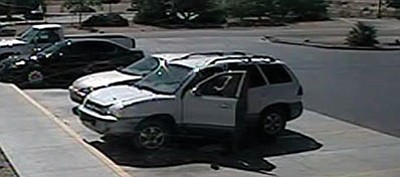 Originally Published: July 14, 2015 5:15 p.m.
GOLDEN VALLEY - Mohave County Sheriff's detectives continue to investigate a robbery that occurred at the National Bank of Arizona on Monday, and they now think they know what the suspect was driving when he targeted the Golden Valley bank, located at 4263 Highway 68.
Surveillance cameras reportedly captured the suspect getting into a Hyundai Santa Fe shortly after the incident, which occurred at about 9:38 a.m. when the suspect entered the bank and demanded money.
He did not show a weapon during the incident and left with an undisclosed amount of cash. No one was injured, according to sheriff's office spokeswoman Trish Carter.
Carter described the suspect as approximately 5-foot-10 and weighing about 250 pounds with black hair. He was wearing a white baseball cap, a gray shirt with "DC" on the front, blue-jean shorts and black flip-flops.
The man left on foot and it was unknown if he was on foot or in a vehicle until video footage reportedly showed him getting into the late-model SUV.
Anyone with any information is asked to call the Mohave County Sheriff's office at (928) 753-0753 or Silent Witness at (928) 753-1234.