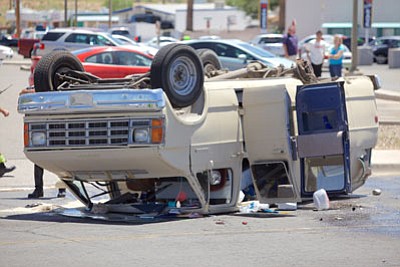 Originally Published: July 15, 2015 5:45 a.m.
KINGMAN - The man who was involved in a fiery crash on Stockton Hill Road and Johnson Avenue Monday morning was involved in a fatal hit and run in 2009.
William Eugene Shelley, 80, was convicted in 2010 of leaving the scene of an accident causing death or injury and sentenced to four years in prison after Judge Steven Conn found him guilty in a non-jury trial of killing 45-year-old Golden Valley resident Kenneth Grantham. The victim was riding a motorcycle west on Andy Devine Avenue on Dec. 21, 2009, when Shelley drove into his path when he turned left off of Andy Devine onto Fairgrounds Boulevard.
Witnesses said Shelley briefly stopped, but soon left after he hit Grantham, who attempted to avoid the collision. Grantham died at Kingman Regional Medical Center about an hour after his motorcycle struck Shelley's pickup.
Thanks to a tip, police found Shelley's truck at his desert property north of Kingman on Stockton Hill Road eight days later. Shelley had no insurance coverage and he quitclaimed his property to a friend, leaving no assets for Grantham's widow to seek.
Shelley reportedly blamed Grantham for the fatal accident, saying in court that it wasn't his fault someone wanted to commit suicide in front of him.
Shelley was also reportedly driving without valid insurance in Monday's incident, which occurred at about 11:20 a.m. when Shelley attempted to turn north on Stockton Hill Road from Johnson Avenue - and into the path of a Nissan traveling south. Shelley's van flipped on its top and the Nissan burned. Both Shelley and the other driver received minor injuries.
Shelley was charged with driving on a suspended driver's license, no proof of insurance and failure to yield at a stop sign.