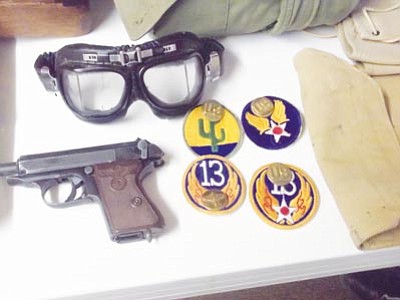 Originally Published: July 21, 2015 6:02 a.m.
KINGMAN - If you are a firearms aficionado, there is a group of men and women in Mohave County who would like you to join them.
The group is called the Mohave Arms Collectors Association, and it was founded in 2007 by current board members Jerry Haworth and Keith Gilbert.
According to Gilbert, he and Haworth had both been members of the San Bernardino Valley Arms Collectors group in Southern California, and when both moved to Arizona, Haworth to Lake Havasu City and Gilbert north of Kingman, they still maintained contact.
They met for lunch one day and decided to see if there was any interest in a group forming in Kingman, so they decided to go to a local gun show and ask around.
"It was amazing," Gilbert said. "We had a list of about 50 people in no time at all."
From there, they started calling people on the list and setting up meeting dates and times.
"We decided that we would meet once a month on the last Thursday," Gilbert said. "We struck a deal with the Mohave Sportsman Club to hold our meetings in their clubhouse."
Now the group, which boasts a membership of about 50 firearm enthusiasts from all over the county, starts socializing around 5 p.m. with the actual business meeting starting at 6:30.
"We get together and talk about different firearms and folks can display their firearms and talk about them, the history and any particulars that make them unique," Gilbert said.
Gilbert also noted that the group is very patriotic. "We always start our meetings with the Pledge of Allegiance."
There is a different theme for every meeting. In June, the meeting featured firearms of World War II.
This month the meeting's theme is "The genius of John Browning."
For those who don't know, Browning was an inventor of a number of sporting and military firearms. Some of his famous firearms include the .45 ACP (Automatic Colt Pistol) and BAR (Browning Automatic Rifle) that found fame in World War II, Korea and even in Vietnam. But the club is more than just a bunch of folks sitting around and talking firearms.
Members are active in the community and sponsor the Arizona Game and Fish Department's Hunter Education Program.
The club also donates money that is used to purchase binoculars that are given to youngsters during hunter education graduation exercises. Jim Rich, one of the chief instructors of the Kingman team, said, "The volunteer hunter education staff appreciates the support and generosity of the Mohave Arms Collectors Association in providing funding for binoculars that the youth will use to enhance their outdoor experiences and allow them to be safe hunters by always allowing them to be sure of their target and beyond!"
The club has also made donations in the past to the D'Ambro Fishing Day.
Members of the club are very knowledgeable of current events as it applies to firearms ownership and the 2nd Amendment. The group belongs to the National Rifle Association and Arizona State Rifle and Pistol Association.
They can be seen at every gun show in Kingman where members buy, sell and trade firearms. MACA often has tables set up at these events and is always available to answer questions.
Gilbert noted that the membership dues are $20 a year for an individual or $30 a year for a family.
For more information, contact Haworth at (928) 764-1739 or Gilbert at (928) 681-4476.