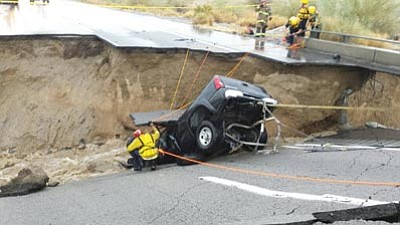 Originally Published: July 21, 2015 6:02 a.m.
KINGMAN - A collapsed bridge on the main highway between Phoenix and Los Angeles could mean more motorists traveling through Kingman on Interstate 40.
Or not.
Heavy flooding caused the nearly 50-year-old Tex Wash Bridge to collapse on Interstate 10 at Desert Center, close to Quartzsite and Highway 95, late Sunday afternoon. The collapse forced the closure of the highway in both directions.
The Arizona Department of Transportation said travelers entering California on I-10 can take State Route 177 to State Route 62 to rejoin I-10 in Palm Springs. Motorists can also travel on Highway 95 to Parker, where they can catch Highway 62 west into California.
Interstate 40 is further north, but it provides a third option. How many might choose it is difficult to guess, said ADOT spokesman Tom Herrmann.
"It would not be surprising to see some drivers choose that option," he said, "and because we don't know how long I-10 will be closed in both directions at Desert Center, we don't know how long that increase in traffic [in Kingman] would continue."
The interstate bridge easily withstood its daily load of thousands of cars and trucks, but the pounding of an unusually powerful flash flood scoured away the land where the bridge was anchored, officials said Monday.
Water rushing through a normally dry desert gully eroded the land around the bridge, causing one side of the eastbound span to collapse and forcing the indefinite closure of the westbound span.
Only one motorist was injured, but the rupture severed a highway vital to the movement of people and commerce between two of the nation's largest cities.
On an average day, the interstate carries about 27,000 vehicles in either direction.
Inspectors fanned out Monday to check all bridges along a 30-mile stretch of the freeway after a second bridge showed signs of damage following the storm Sunday, said Terri Kasinga, spokeswoman for the California Department of Transportation.
No timeframe was given for when either side would reopen as crews were diverted from other projects to examine the site.
When inspectors visited the bridge in March, they found no structural issues, according to Will Shuck, another Caltrans spokesman. The eastbound side was deemed "functionally obsolete," but Shuck said that reflected the fact it was built in 1967, when construction methods were different.
Many motorists speeding through the desert might cross the bridge without knowing. It spanned a shallow desert gully, perhaps just 60 feet wide. Such washes, as they are known, streak the desert floor and flash to life as rains are funneled into them much like tributaries can swell a river.
The bridge, about 50 miles west of the Arizona state line, was washed out as remnants of a tropical storm off Baja California dumped rain at a rate of 1.5 inches an hour. A total of 6.7 inches fell Sunday in Desert Center, said National Weather Service forecaster Ken Waters.
Showers and thunderstorms in drought-stricken southern and central California set rainfall records in what is usually a dry month.
The Associated Press contributed to this report.
More like this story