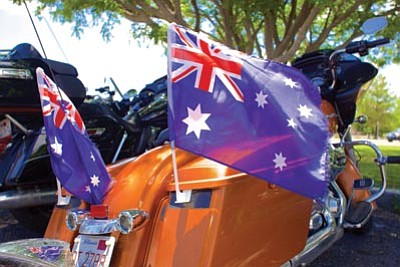 Originally Published: July 22, 2015 6:02 a.m.
KINGMAN - Keeping Mother Road and the spirit of Route 66 alive and well isn't just a domestic effort.
International groups flock to the road as a symbol of the America of old, and tours along Route 66 have become increasingly popular.
Dale Butel operates Route 66 Tours with his wife, Kristi-Anne. Both are Australians and enjoy taking Australian and New Zealand tourists along the road.
"We come here four times a year. It's a firsthand experience of the road," said Dale. The tour group coming through on Tuesday had around 50 people. Dale attributes the popularity of Route 66 in Australia to the culture Americans and Australians share, especially in the 1950s and '60s.
"Baby boomers growing up in the '50s and '60s, it's a trip down memory lane. That feel," said Dale, gesturing to Mr. D'z Diner across the street. "It takes them back."
"Route 66 is a little bit unusual for the modern era. I think America accidentally kept the road, and now is working hard to turn around that destruction."
Mayor Richard Anderson, City Manager John Dougherty, local businesswoman Dora Manley, and Route 66 author Jim Hinckley were present at Locomotive Park on Tuesday to meet the tour group and present Dale with a Route 66 brick, which will be placed in the sidewalk along Andy Devine Avenue in downtown Kingman.
For Daniel and Bernadette O'Hara, a couple from Brisbane, Australia, this trip is a dream come true.
"It's very enlightening. We're living our dreams. It's been on our bucket list," said Bernadette O'Hara.
Daniel pointed out that the couple wrote their list on an actual bucket, with Route 66 falling under the "travel" section. The O'Haras agreed with Butel on how special it is to have a preserved road like Route 66.
"Many roads in Australia get bypassed, and the old roads destroyed. We don't keep our history like this," said Daniel O'Hara.
Hinckley, a Kingman resident and Route 66 author, presented the tour group with signed copies of one of his books. The O'Haras called him the "Encyclopedia of Route 66" and that "it's good to have someone like that around."
Dale Butel will be back next week with another tour group, and was formally invited by Dora Manley to attend the Best of the West festival in late September.