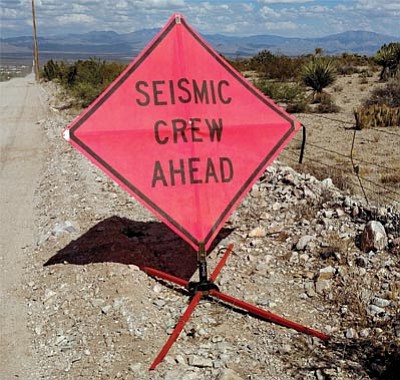 Originally Published: July 22, 2015 1:45 p.m.
The seismic survey currently occurring in Golden Valley has a much more sinister reason for being here than what the government spin doctors are attempting to tell the public.
The U.S. government, with the backing and blessing of Mohave County officials, has allegedly contracted with a civilian company called NordalSeismic to conduct a seismic survey throughout the valley nestled between Bullhead City and Kingman.
Although Underground Energy normally sets up their seismic equipment and searches for gas and oil deposits under the Earth's surface, their mission in the valley is a secret clandestine operation.
Through secret documents recently obtained from NASA and through satellite imagery, it was learned the U.S. government has determined there is an alien spacecraft buried under hundreds of feet of sand in Golden Valley.
The highly redacted documents obtained by local UFO enthusiasts indicate that an alien spacecraft careened into the desert floor during 1947. This is the same year the alien spacecraft crashed near Roswell, N.M. According to long-time Mohave County residents, another alien spaceship also crashed near the Red Lake area north of Kingman adjacent to Stockton Hill Road and the government covered it up, acting like it never occurred.
Government officials have continually maintained a hue of plausible deniability in regard to the presence of aliens, but because another spaceship was recently spotted silently gliding across the valley, they decided it was time to start searching for the crash site.
The government's plausible deniability about secret alien operations and bases isn't limited just to Roswell and Mohave County. They have continually maintained there is no such location called Area 51 northwest of Las Vegas, Nev.
All of the documents indicated they are positive the crash occurred, but they are having a hard time pinpointing the actual site. The government has finally succumbed to the fact they have to contact with the civilian company to locate the crash site because of the government's ineptitude and prior use of antiquated equipment while searching for crashed alien aircraft.
There have been numerous sightings by residents of strange lights/orbs silently flying in formation in the sky over Golden Valley and the surrounding area. Many of these lights have been extremely large, appear to be piloted by an alien being and have made maneuvers that humans are incapable of doing.
According to a longtime UFO researcher who wants to remain anonymous because of possible retribution from our government, he believes our government has stepped up its investigation into the crash. He feels it is because our government wants to locate the crash site before the aliens can conduct a salvage operation.
We residents deserve the right to know what is going on in Golden Valley. The government has attempted to hoodwink Americans into believing there is no such thing as aliens. Because of the current clandestine operation being conducted there, they need to be completely transparent and inform the world the truth about alien encounters, crashed alien crash sites, secret military bases located underground in the county and clandestine government operations here.
(Butch's next series of historical tidbits and folklore will be about the Japanese mini submarine that traveled north through the Sea Of Cortez, hundreds of miles up the Colorado River during World War II and ended up stuck on a sandbar near what is now called Bullhead City. The four-man crew of the submarine abandoned the vessel when it got stuck and assimilated into the local population. They have continued to reside in Mohave Valley along with their American families they married into. The mini submarine is now covered with tons of river silt, but the upmost tallest portion of it can be occasionally seen when the U.S. Department of Water Resources lowers the river's levels.)