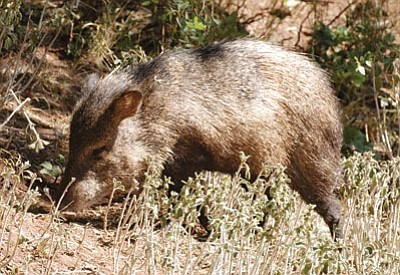 Originally Published: July 22, 2015 6:02 a.m.
KINGMAN - You can put lipstick on a pig and it's still a pig, but no matter how much lipstick you put on a javelina, it will never be a pig.
This and other fascinating facts about tayassu tajacu will be explained at the next to last installment of the Arizona Game and Fish Department's Summer Wildlife Series Friday.
Erin Butler, the game specialist with the department's Region 3 office in Kingman, will delve into the world of javelina during a 45-minute presentation from 6:30 to 7:30 p.m. Friday at the Kingman Mohave County Library, 3269 N. Burbank St.
A Q&A session will follow.
Javelina have expanded their presence around Kingman and elsewhere in Arizona, a somewhat recent development that Game and Fish believes residents need to understand.
"Javelina are becoming more visible around the Kingman area from the Hualapai Mountains all the way into the Cerbats," said Zen Mocarski, information and education program manager for the Region 3. "It's going to become increasingly important for the public to understand and learn to live with these animals. Their expansion throughout Arizona has been slow and steady."
People will likely continue to refer to javelina as pigs, but the mammal actually has its own classification.
"Many people believe javelina are either pigs or rodents," Mocarski said. "They're actually unique and belong to their own group called collared peccaries."
Butler in her presentation will include information on the history and biology of the animals, common myths, how to co-exist, hunting and other interesting facts.
While the presentation is open to the public, the subject is most suitable for those 14 years old and older. Seating capacity is limited to 52, said Mocarski.
The Summer Wildlife Series has never been more popular, he said in an email. Mocarski said average attendance this summer has shattered previous records.
Alas, the 2015 season is winding down and will conclude Aug. 14 with a presentation on prairie dogs.
Presentations are posted each week on the Region 3 Facebook page, which can be found by searching for "AZGFD Kingman."
For more information, contact Mocarski at (928) 692-7700 or email zmocarski@azgfd.gov.