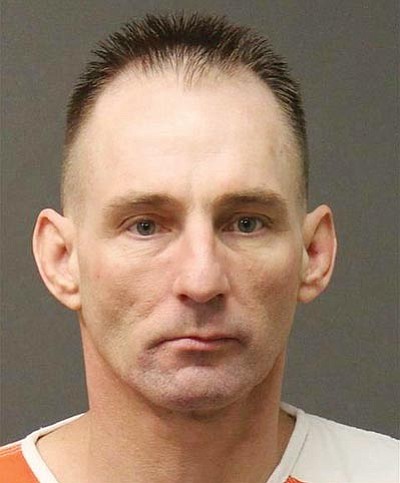 Originally Published: July 23, 2015 6 a.m.
KINGMAN - The man accused of causing the death of a beloved Kingman resident was found guilty of six felony counts Wednesday in an unrelated trial.
Kingman Police officer Jesse Kennedy has no doubts Robert James Dodd, 42, was the driver of a Ford Ranger pickup that struck his patrol unit. The incident occurred, he said, after Dodd led officers on a chase that approached speeds of 100 mph and lasted for several miles across Kingman in the predawn hours of April 13, 2014.
He had the wanted man's photograph in his patrol unit and had stared at it a number of times in the days leading up to the pursuit.
A Mohave County jury spent less than an hour deliberating the case, which hinged on Kennedy's testimony. He was the only person who saw Dodd behind the wheel.
While jurors were not told of Dodd's other troubles, Kennedy's description of the chase was eerily similar to what would occur later that April.
Eight days after Dodd struck Kennedy's patrol unit, he reportedly fled from law enforcement officers from a number of agencies when he allegedly blew through a stop sign in the Butler area and crashed into a car driven by prominent Kingman resident Linda Chevalier, who would die from her injuries.
A report compiled by the Arizona Department of Public Safety described Dodd's reckless behavior that day and it closely matches Kennedy's account of his pursuit of Dodd.
Kennedy said Dodd was behind the wheel when the Ranger sideswiped his patrol car in a chase that began downtown and ended on Roosevelt Street when Dodd crashed through a fence and into an SUV before he fled from the scene.
Kennedy testified at one of four trials in which Dodd is the defendant. In this case, Dodd was driving fast down a downtown alley, without his headlights on, just before 3 a.m. when he caught Kennedy's attention.
A KPD detective attempted to stop the driver on Andy Devine Avenue, but he refused to stop. The detective, another officer and Kennedy, all with lights and sirens activated, pursued the Ranger down Beale Street to Interstate 40, east on the interstate to Stockton Hill Road, when Dodd reportedly accelerated to nearly 100 mph, north on Stockton Hill Road to Gordon Drive, and then down Gordon to Pinal Street.
Kennedy said Dodd was traveling without his lights and often used the opposing lane, and blew through stop signs and stop lights.
When they got to the dirt streets in the Pinal area, Barkhurst radioed that he lost sight of Dodd due to dust. Kennedy drove down Coronado Avenue when he said the driver went straight at him in the opposing lane. Kennedy said he pulled all the way over and Dodd turned away about 50 feet in front of him. The pickup was fishtailing, he said, and the rear panel of the pickup between the driver's side wheel well and taillight struck the front driver's side fender of Kennedy's unit.
The driver turned on Roosevelt Street and crashed through a residential fence and into a parked Suburban. The door was open and the engine was running when officers arrived, but the driver was nowhere to be found.
Kennedy said he might not have recognized anyone else, but he was aware Dodd was wanted and he had his photograph.
"I'm 100 percent certain the driver was Robert Dodd," said Kennedy.
Dodd was convicted on two counts of aggravated assault, one for unlawful flight from a pursuing law enforcement vehicle and three counts of criminal damage.
Dodd was acquitted in his first trial earlier this summer when jurors couldn't trust the only witness the state had that identified Dodd as the man who took his van after he jumped out and led law enforcement on another pursuit in March of 2014. The man, a convicted felon, reportedly had so much methamphetamine in his system that the lab technician who analyzed his blood thought he was looking at a dead man's sample.
Dodd has two other trials scheduled. One alleges he stole a vehicle. The other regards Chevalier and the most serious charge facing Dodd, second-degree murder. That trial was scheduled for August but has been postponed.
More like this story