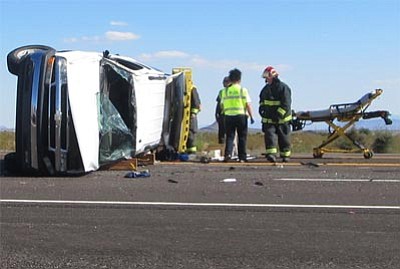 Originally Published: July 23, 2015 4:03 p.m.
GOLDEN VALLEY - One person was injured Wednesday afternoon in a single-vehicle rollover on Highway 68 that backed up traffic for about 45 minutes.
Golden Valley Fire District personnel responded to the wreck at milepost 25. The driver was transported to Kingman Regional Medical Center for moderate injuries.
The driver of the Chevrolet Suburban was heading east when she veered onto the soft gravel shoulder. According to her and witnesses at the scene, she overcorrected and rolled the car at least twice.
An off-duty Texas firefighter who witnessed the accident crawled into the vehicle and assisted the driver until paramedics arrived.
More like this story