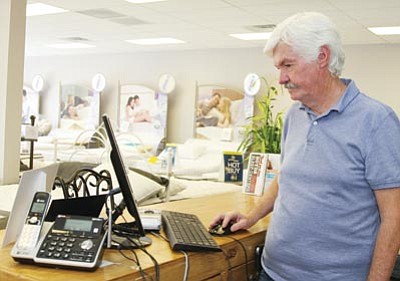 Originally Published: July 24, 2015 6 a.m.
KINGMAN - Dan Del Monaco wants to make it easy for bank customers to access their accounts online, but he's also tasked with protecting them from personal identity theft and fraud that has become increasingly rampant in this age of advanced technology.
Del Monaco, vice president of Mohave State Bank, said identity theft happens quite often, especially with elderly people lacking computer knowledge.
Online banking is the fast and convenient way to pay bills and review account activity, but it also requires a complex security system to keep hackers from tapping accounts.
Mohave State Bank spends a significant amount of money updating security software to protect the bank's customers and assets, Del Monaco said.
"At the end of the day, we can only do so much," the bank executive said. "Banks get a bad rap because people think the government is doing this and that, but a lot of it is to protect the customers."
Typical identity theft involves the use of names, addresses, telephone numbers, Social Security numbers, birth and death certificates, passports, credit cards, and passwords such as your mother's maiden name and father's middle name. More sophisticated fraudsters can steal biometric data such as fingerprints and iris scans.
Once identity thieves have your personal information, they can drain your bank account, run up charges on your credit cards, open new utility accounts, or get medical treatment on your health insurance. In some cases, they may file an IRS tax return in your name.
Mohave State Bank doesn't get hit with identity theft like Wells Fargo, Bank of America, Chase and other major financial institutions, but it does happen a couple times a year, Del Monaco noted.
Because the bank is small and maintains a more personal relationship with customers, it's easier to spot suspicious account activity and talk to customers about it, he said.
Accessing an account starts with a user identification and password.
The bank then checks the device being used to determine if it's the customer's personal computer, mobile phone or tablet. If the bank does not recognize the device, the user may be asked to complete a "security challenge" to validate their identity. That information might include your Social Security number, mother's maiden name or other personal information.
The security system also checks geographic indicators. If the customer is trying to log in from an unusual location, additional questions may be asked.
Cloak of anonymity
Identity theft is nothing new. The FBI has been dealing with criminals using fake IDs for decades, from check forgers to fugitives on the run.
It's just developed into a more pervasive and sophisticated crime with online elements.
Boyd's Outlaw Sleep Centers in Kingman was recently victimized by a hacker who wanted an "overdeposit" wired back to an account through Western Union.
Linda Boyd said she got a call from a company that said it would clean up her computer system and get rid of "Trojans." She paid the company $249 and everything was fine until she started getting calls in June saying the company was closing and wanted to deposit the $249 back into her account.
"He wanted me to log into my account and watch him put the money in," Boyd said. "I logged into Wells Fargo and nothing was there. He kept saying he put in $2,000 too much and he would lose his job unless I wired the money now.
"I checked again and lo and behold, it's in there. They took a picture of the account and put whatever on it and it looks for all the world like it's in there."
Boyd said she called Wells Fargo to see if any deposits were pending and was told there weren't and that this is what they called a "Nigerian" scam.
"They wanted to put the money into an account in New Zealand," Boyd said. "You've got to be careful. There's so much out there they can do."
The number of identity theft victims and total losses are probably much higher than what's been publicly reported. Credit card fraud occurs about 3,000 times a day in the United States, according to the FBI.
It's difficult to provide a precise assessment because law enforcement agencies classify identity theft crimes differently, and because identity theft can also involve credit card fraud, Internet fraud or mail theft, among other crimes.
How do thieves learn enough about you to become you?
It runs the gamut from old-fashioned theft to high-tech hacking. They might steal your wallet or purse, go through your mailbox and trash, and listen for personal information while you're shopping or talking on the phone.
Those methods are old school. Some of the more prevalent schemes criminals are using these days to steal identities include suspicious email and "phishing" attempts to trick victims into revealing personal information, and software embedded on your computer to log keystrokes.
Facial recognition
Identity theft is obviously a problem and not a "haphazard situation," said Harold Sanders, spokesman for Arizona Department of Transportation.
"We're talking about criminal intent to do other crimes and part of it is to get someone else's identification," Sanders said.
ADOT has enhanced the security of driver's license applications using facial recognition technology to deter identity theft and fraud. Applicants for a new or duplicate driver license or state ID card at the Motor Vehicle Division will have their photo taken at the beginning of the process.
Detecting identity theft, fraud or forgery starts with the initial review of all documents submitted in the application packet. Employees look for possible file errors or fraudulent submissions from applicants.
"It's documents they have obtained and bring it in," Sanders said. "Some of the organized crime groups will send folks in with ID stolen from someone and try to get some kind of credential issued in the name of someone else."
Their purpose is widespread, the ADOT spokesman said. It could be forgery, identity theft, or simply a change in birth date for a certain age group.
ADOT is focused on the "integrity" and "credibility" behind its documents, Sanders said.
When an application generates an alert from the facial recognition technology, the system will automatically perform additional records review to identify and correct any possible file errors. If it's not a file error, the record will then undergo a comprehensive review by ADOT's Office of the Inspector General.
Detectives are currently working investigations after reviewing reliable information stored in the system, Sanders said, though he was unable to provide specific numbers on how many cases are being investigated.
More like this story