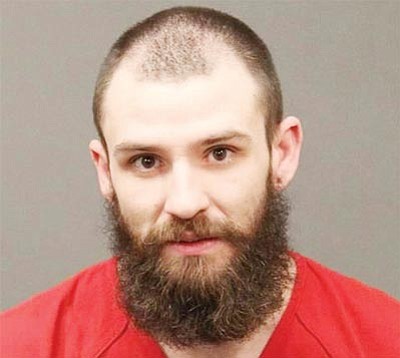 Originally Published: July 24, 2015 6 a.m.
KINGMAN - Death penalty defendant Justin James Rector has no right to unlimited access to a laptop computer while he awaits trial in the Mohave County jail.
So said James Schoppmann, a deputy county attorney who serves as special counsel to the Mohave County Sheriff's Office, in his response to Rector's attorneys, who requested that the jail be made to provide the accused child killer with the computer, headphones and, if necessary, an extension cord so he can review evidence and other subject matter in the case against him.
Judge Lee Jantzen will have the final say on the order, but Schoppmann said the request by attorneys Gerald Gavin and Ron Gilleo is "unfounded in fact and law."
Rector, 27, stands accused of strangling to death 8-year-old Bella Grogan-Cannella on Sept. 2 and burying her body in a shallow grave about a mile from her Bullhead City home.
His attorneys argue there are more than 40 CDs and DVDs in the case file that Rector must review, but Schoppmann notes neither Rector nor the jail has received any of them and that Rector has not requested to review any of them.
Schoppmann also pointed out the jail provides inmates access to computers, when such use is requested, but in "a proper and controlled setting."
The attorney said Rector could review his electronic information by this method.
Schoppmann also objected to Rector's attorneys' contention that they tried and failed to resolve the issue with Jail Director Don Bischoff prior to asking for Jantzen's assistance.
Gavin, said Schoppmann, sent the jail an email regarding the laptop issue and filed court documents two hours later.
Bischoff was unavailable to reply.
Schoppmann acknowledged inmates have certain rights, particularly when it comes to pending cases, but he also said no court has ruled prisoners have a right to a personal computer. The system in place at the jail passes constitutional muster, he said.
And then there are security concerns. The laptop, its power cord and the extension cord could be used as weapons and their presence would have an unnecessary impact on the sheriff's authority to manage the jail.
Jantzen has several pending requests from the defense and responses from the prosecution on which to rule.
Rector's next court hearing is Sept. 30, with trial scheduled for October 2016.