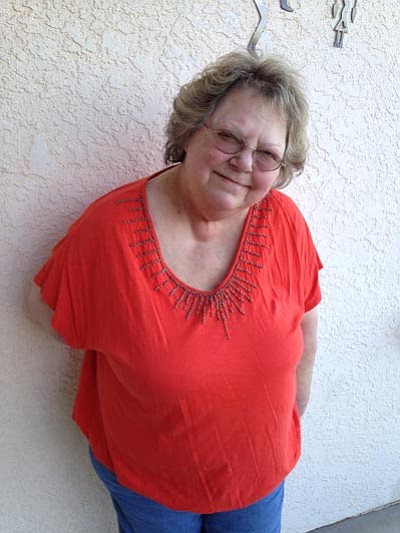 Originally Published: July 24, 2015 6 a.m.
Jacqueline Brooks passed away on July 19, 2015, and was born on Sept. 21, 1949, in Lake Charles, La., to Edward and Billie Feinstein. Jacqueline moved to Kingman from Van Nuys, Calif., 10 years ago.
She was a high school graduate and an All Valley Washer/Accounting person. She loved playing Bunko with her lady friends, watching Dale Earnhardt Jr. race in NASCAR, taking short road trips and looking for rocks, and most of all spending time with family.
Jacqueline is survived by her husband, Larry Brooks of Kingman; daughter Rayann (Ismael) De Los Angeles of El Paso, Texas; son Michael (Kim) Brooks of Thousand Oaks, Calif.; brother Ron (Gayle) Feinstein of Camarillo, Calif.; brother Bob (Debbie) Feinstein of Big Bear, Calif.; sister Darleen Conway of Bullhead City; sister Sandy (Dave) Wallace of San Diego; sister Terri Feinstein of Los Angeles; abd mother-in-law and father-in-law Bill and Barbara Bray from Kingman. She has five grandchildren and three great-grandchildren.
Services will be held at Sutton Memorial at 1701 Sycamore Ave. in Kingman from 5-7 p.m. Friday, July 24, 2015.
More like this story