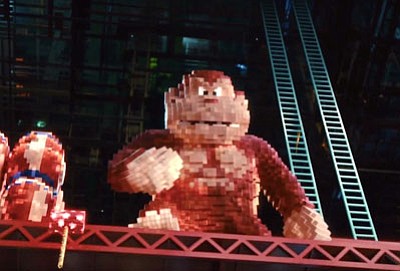 Originally Published: July 27, 2015 6 a.m.
"Pixels" is a brilliant tribute to those who spent hours of their youth playing video games on Atari, Nintendo, Sega, and arcade machines.
When they were young, Sam Brenner (Adam Sandler), Will Cooper (Kevin James), Eddie Plant (Peter Dinklage), and Ludlow Lamonsoff (Josh Gad) were the 1982 World Arcade champions. A VHS tape of their competition was sent into space as a message of goodwill to any alien beings.
Fast forward 30 years, and aliens have misinterpreted the VHS footage as a declaration of war, and they send warriors to Earth in the form of those 1980s video game characters.
Gamers: If you grew up playing the classics, this movie takes you down memory lane and incites you to point at the screen shouting the names of the game characters and '80s celebrities as they appear, "Q*Bert! Duck Hunt! Centipede! Hall and Oates!"
If you are not a lover of those video games or are too young to have played the classics, "Pixels" effects may prove to be visually stunning, but the pop culture references, jokes, and plot won't prove meaningful.
Action and Sci-Fi fans: "Pixels" is a fun movie for your visual senses, but the acting and lack of character development is upsettingly stale. Sadly, the most interesting characters are the brought-to-life video games, pixelated smoke and destruction.
Sandler fans: While this is his best movie in a very long time, it still lacks the energy of his comedic wit that drew your admiration. His deadpan humor and writing feel generic and bored.
Families: There is only one reference to bodily excretions, which is miraculous for a Sandler film. The female characters and ethnic diversity fall flat. Cameos by professional tennis player Serena Williams and comedian Affion Crockett are commendable but mediocre. The violence also ends on a happy note, which allows the children to enjoy.
Classic Gamers & Families: 3 out of 4 Miners
Action Fans & Halo-era Gamers: 2 out of 4 Miners
More like this story