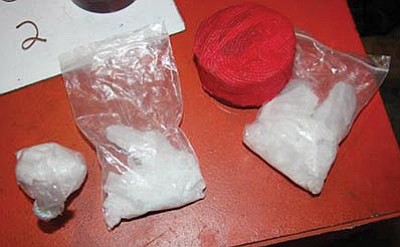 Originally Published: July 31, 2015 6:02 a.m.
KINGMAN - Kingman Police detectives seized a substantial amount of methamphetamine and cash following a months-long drug investigation that ended Wednesday morning with the arrest of Eric Jason Johansen.
Johansen, 42 and from Kingman, was taken into custody at a job site in the 2600 block of Phoenix Avenue. Detectives searched his home in the 2400 block of Devlin Avenue after obtaining a warrant and allegedly found nearly half a pound of methamphetamine - nearly 227 grams - packaging materials and drug paraphernalia, according to Deputy Chief Rusty Cooper.
Cooper said detectives also seized an unspecified, but "significant," amount of cash.
Johansen faces felony charges of possession of dangerous drugs for sale and possession of drug paraphernalia.
A 44-year-old Kingman man who was at Johansen's home when it was searched was arrested on a misdemeanor failure to appear warrant issued by Kingman Justice Court.