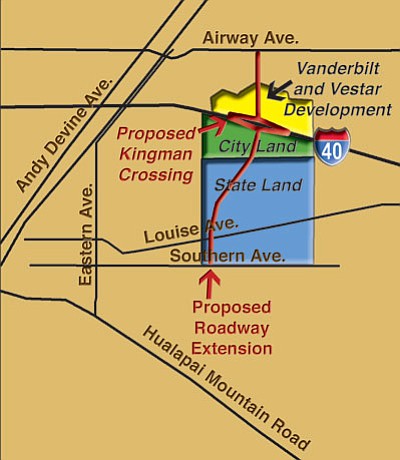 Originally Published: July 31, 2015 6 a.m.
KINGMAN - The City Council remains divided over how to proceed with plans to develop Kingman Crossing, with members sparring over issues big and small concerning the multimillion-dollar goal of bringing new shopping opportunities to Kingman and the construction of a fourth traffic interchange on Interstate 40.
• Should the 158 acres of city-owned land be sold before it's rezoned from rural residential to commercial or vice versa?
• Does the Council even want to sell the land?
• Is there any guarantee a future buyer would pay a huge chunk for the new interchange and its estimated $25 million price tag?
• What's to keep a future buyer from building homes rather than retail outlets?
Development Services Director Gary Jeppson was put in an awkward position when these and other questions were asked at a non-action special meeting held Monday. They are questions, after all, the City Council must decide.
The biggest question, however, is even if a buyer comes in, helps pay for the interchange and develops retail space, does that mean the city will benefit from a substantial increase in sales tax - its only local source of revenue in the absence of a tax on food and primary property tax?
"I think we can do better," said Councilwoman Jen Miles. "We don't know exactly what we're buying into."
Miles advocated for a study that would determine how much sales tax the city would receive from new businesses that open in Kingman Crossing, saying there are firms that could make the analysis for the city.
Miles also noted Kingman's perennial budget troubles make any major project risky.
"Anything we do takes us further into debt," she said. "We can estimate. Cities don't operate in mysteries and this shouldn't be a mystery."
City Manager John Dougherty, however, suggested the Council might be putting the cart before the horse and should keep a tight watch on spending any money on Kingman Crossing until voters decide whether or not the 158 acres should be sold.
"How much money are you willing to spend to develop a plan and then voters decide they don't want it?" he said.
Miles and Councilwoman Carole Young said residents' perception of the project is unrealistic.
"The public don't see it as little pieces. They just see the big picture," said Miles.
Councilmen Mark Abram and Larry Carver advocated for changing the zoning first in order to create a special development district that would prevent unwanted businesses from opening in Kingman Crossing, such as truck stops.
Young, however, said the next step should be letting voters decide whether the land should even be sold.
"I want what's best for the city," she said. "I want to bring in sales tax, but I want to make sure it's sold for retail."
She also said nobody is going to want to pay for the interchange and she noted her constituents have expressed misgivings about the project.
Miles said people she has met with would prefer the city develop Rattlesnake Wash as the city's next interchange so that a second access road to the Kingman Airport and Industrial Park could be constructed.
Abram advocated for rezoning for the simple fact the land would be more valuable if it were zoned commercial rather than rural residential. After that, he said, the Council could work up a plan to present the project to citizens.
If, in the end, voters reject Kingman Crossing, the land could still be sold. Under its current zoning - rural residential - it could be used to build residential properties with minimum one-acre lots or for agriculture.
Residents have the opportunity to weigh in at a special town hall meeting at the Mohave County Board of Supervisors auditorium, 700 E. Beale Street, tentatively scheduled for Aug. 25.
Neither Mayor Richard Anderson nor Vice Mayor Mark Wimpee attended Monday's special meeting.