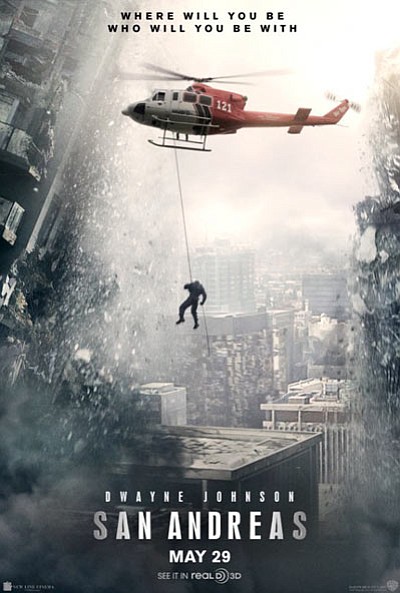 Originally Published: June 1, 2015 6 a.m.
CGI-junkies and action flick lovers - "San Andreas" is for you. Buildings crumble with spectacular detail and a race to the crest of a tsunami yields a startling surprise.
While the CGI and action are honorable, the plot is not. The world's highest magnitude earthquake hits California and a firefighter - who served in the military - must team up with his soon-to-be-ex-wife and save their teen daughter who is lost in the devastation. Of course, the daughter stumbles across a brave young lad who rescues her and then she rescues him - but then she is completely incapable and near death when her dad finds her. Gee, almost makes you breathless, huh?
The family is reunited, yadda, yadda, yadda, and all is well as the American flag waves in the breeze.
For those with a "Rock" crush, Dwayne Johnson is terrific eye candy as he struts on and off helicopters, planes and speedboats. He rips a car door off with his bare hands. He's such a versatile rescue guy - must be that military training.
Refreshingly, the main characters bring convincing emotions to their roles and the women can handle their own. After falling four stories, Carla Gugino - the soon-to-be-ex-wife - leapfrogs over a crumbling, fiery rooftop and jumps to a helicopter rescue basket like a BOSS! Alexandra Daddario - the missing daughter - provides a balanced display of fear, hope that her dad will find her, and resourcefulness. Paul Giamatti provides his usual doe-eyed appeal as the scientist whose warnings go unheeded.
For rescue/fire personnel, this movie makes disaster manageable and tidy. Though every city along the 801-mile San Andreas fault line is flattened, fire and police are on-scene fighting blazes and transporting folks to makeshift Red Cross camps with little commotion.
A tsunami floods most of the area and the Hoover Dam cracks - no problem! There are no bodies floating in the water and Johnson and Gugino are able to cruise through the trash-filled waters at top speeds.
CGI Fans - 4 out of 4 Miners
"The Rock" Fans - 4 out of 4 Miners
Action Fans who need a good plot - 3 out of 4 Miners
People who need a sensible plot despite action and phenomenal CGI - 2 out of 4 Miners