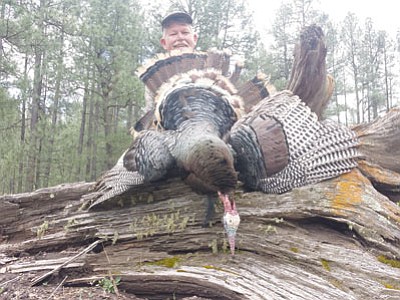 Originally Published: June 2, 2015 6:02 a.m.
The last couple of weeks I have shared my experiences on turkey hunts in southern Nevada, where I bagged a Rio Grande gobbler, and in southern Arizona, where I got an awesome Gould's gobbler.
Today I will tell you about the longest turkey hunt I have ever been on. It was on the San Carlos Indian Reservation in central Arizona and I was there to hunt for the last bird of my 2015 Triple Crown for turkeys, the Merriam's.
Friend and expert turkey caller Eric Hawkinberry joined me on the hunt.
We have both hunted the San Carlos before. It has a reputation for some of the best turkey hunting in Arizona. But as Eric and I would find out, this year was different, and bagging a longbeard would be quite an adventure.
Our problems started the day we got to the reservation. High winds, cold weather and news of an approaching storm - all were going to be problematic.
And when we woke up on the second morning of the hunt to find three inches of snow and it was still snowing, we knew we were in a lot of trouble.
After the storm cleared out, we would not have any trouble finding gobblers. We found them on the roost in the mornings, and once again in the evenings.
But during the day it was like we were in a turkey-free zone. The gobblers were henned up and not interested in any of the calls we were making.
In the wild, hens go to the gobblers, so what we as hunters are trying to do is completely against what occurs in nature. We definitely had our work cut out.
Before my hunt was over I would almost run out of food and water, and when I finally got back to civilization, my truck was almost out of fuel.
But the sights and sounds that I got to experience on the hunt were worth it all.
I met some friendly folks, Greg and Charlotte Fischer from Globe at Point of Pines Lake, and they took pity on the old man, feeding me dinner two nights in a row while I waited for Eric to return with some much-needed food and supplies.
I figured that if I just kept hunting, sooner or later I would find a gobbler whose hens had gone off to nest. Then he might respond to my calls.
Despite going out day after day and calling and calling, it was the same story. Sure, they would gobble on the roost, but then they would fly down, meet up with their hens and go on their merry ways.
Then in the evening they would come back, occasionally gobbling, but absolutely not coming to any kind of call.
It finally came together after about two weeks.
I had snuck in close to a roost site at about 4 a.m. in a full moon and then just sat and waited for the day to begin.
It was the gobbler that fired off first, and he was close - only 26 yards from where I was sitting.
There were seven hens in that roost, and as the darkness turned to light, they were chattering and getting ready for another day in the forest.
But things didn't happen as they normally do. First the gobbler flew down and landed about 100 yards away. Then the hens flew down, one by one. Usually the hens fly down and the fired-up gobbler, full of love, flies down to them.
Then I heard two other gobblers firing off down the canyon and things got real exciting.
I waited 'til the birds moved off and was moving to where I was going to set up and call. This was something I had done many times before on this hunt.
As I approached, I saw the old gobbler 65 yards away. To my surprise, he had no hens with him!
Too far away for a shot, I just stopped and watched as he walked up the steep mountain, gobbling his head off.
Then I heard another bird across the canyon. I worked over to that location and then the gobbler led me on a merry chase.
I then heard yet another gobbler in about the same area where I had seen that first gobbler, so back across the valley I trudged.
I watched as a single gobbler chased a hen all over the mountain side. Love was definitely in the air!
A new call
Dejected, I decided to just sit down, watch and listen.
Twenty minutes later, I made a soft yelp with a different diaphragm call I had not used before. A bird back across the valley about 300 yards away immediately responded.
I waited another 20 minutes and made another soft call. The "gobble-gobble" response sounded like he was about 200 yards away.
I moved up about 100 yards and sat down.
Five minutes later I called and got a response. He was very close. Game on!
I waited and watched. Then there he was, his bright red head glowing in the morning sun. He slowly walked toward me.
He was not in strut, not fanned out or drumming, just slowly walking in while stopping to feed occasionally.
The gobbler finally got to within 40 yards and I fired. Down he went, rolling over and over. I fired again, and once more he tried to get up. It would take a third shot to put him down for good.
My quest for the turkey Triple Crown was over after 12 days of hard hunting.
The bird was probably three years old and had a beard that was an honest 9½ inches long. One of his spurs was very long, with a sharp point on it, and he weighed just over 18 pounds.
The next day Eric would finish up his hunt.
We waited in an area that led to a roost site, and when a grand old gobbler that had a single hen with came by at 40 yards, he tipped him over.
Eric's bird had a 10-inch beard and a beautiful fan that I'm going to use on a decoy on future hunts.
I doubt that I will ever have the opportunity to go on three hunts like this in the future.
All total, I had scouted/hunted 20 days in two different states. I had also been on the road six days during that time, going from hunt to hunt, and put several thousand miles on my truck.
I've already got my spring tag for the San Carlos in 2016. Plus, I'm working on going to Florida next spring to try for an Osceola gobbler.
If and when that happens, I will have taken the North American Grand Slam of wild turkeys.