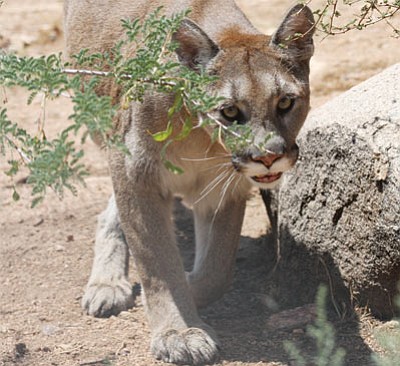 Originally Published: June 2, 2015 4:34 p.m.
KINGMAN - The Mohave County Board of Supervisors voted 5-0 Monday to rezone land in Golden Valley to allow for an animal park and sanctuary to be operated by Jonathan Kraft, owner of Keepers of the Wild.
Kraft said he plans to develop the Wild Planet Animal Park on about 2,200 acres north of Highway 68 and south of Fietz Avenue, 10 miles west of U.S. 93. JRED Holdings of Valentine owns about 4,000 acres in the area.
During the public comment period, a resident of Golden Valley asked if there was adequate water to support more than 1,000 animals - and how would the owner handle sewage and animal waste? Is there an environmental impact report on the development?
Those issues have all been addressed, Kraft said. The property has its own well, and recycled "gray water" will be used for vegetation and irrigation purposes, he said.
"We're very much into conserving water and conserving the environment," Kraft said.
The Bureau of Land Management field office in Kingman and the Arizona Game and Fish Department have received environmental reviews on the park. The animal sanctuary would share three miles of boundary with the Black Mountain management area, home to bighorn sheep, desert tortoises, wild burros and other protected plants and animals.
"Certainly we're concerned about being in the middle of bighorn sheep area," Kraft said. An eight-foot fence will protect the animals from contact with indigenous animals.
The specific number of acre-feet of water to be used each year has yet to be determined, but it will be considerably less than a golf course or housing development, Kraft assured the concerned resident. The parcel is served by an on-site well, electricity and telephone, and there is no sewage system.
Kraft said he'll use local labor for the $40 million project, which could employ anywhere from 150 to 200 people with a payroll of $4 million to $5 million. Road improvement is also part of the budget.
"Anybody who knows our track record knows we spent over $2 million last year improving our habitat," he told the Board of Supervisors. "Our animal care and our animals' natural enclosures are top-notch."
The land is being rezoned from agricultural-residential, 36-acre minimum lot size to commercial-recreation, 36-acre minimum lot size. It will take about three to four years to build the animal park, Kraft said.
Wild Planet is a separate entity from Keepers of the Wild, a 175-acre animal sanctuary about 25 miles east of Kingman. The park started in Las Vegas in 1995 and moved to Mohave County about 14 years ago, first in the White Hills area and now in Valentine.
The enterprise has gone from $40,000 annual revenue to more than $3.6 million.
Wild Planet would house hundreds of big cats, elephants, giraffes, a reptile garden, and primate and raptor rehabilitation centers.
"Whatever we rescue," Kraft said.