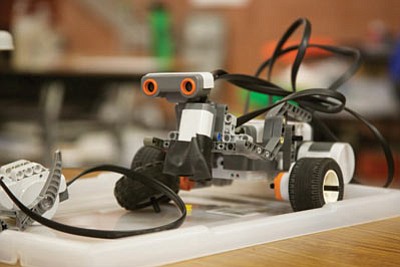 Originally Published: June 4, 2015 6 a.m.
KINGMAN - The Kingman FIRST Robotics Team 60 has had a busy couple of weeks. After taking first in the AIA State Robotics Championships on May 23, the team had one week off before putting on its annual LEGO League Summer Camp at home.
The camp, which runs through Friday, was open to third- through eighth-graders. Participants had the opportunity to learn how to design, build, program and test autonomous robots by using eight LEGO Mindstorms kits. Each kit consists of a brain and a combination of motors and sensors, with the body and arms constructed out of LEGO bricks and pieces.
Over 50 students participated over both sessions.
At the camp, students are presented with a game table and a problem to solve. They are divided up into teams, and the rest is up to them with the help of mentors from Robotics Team 60.
"We're trying to get them interested in the program at an early age," said Celeste Lucier, Robotics Team advisor for Kingman Academy and mentor for Team 60. Lucier advises the club with Jody Schanaman from Lee Williams High School and Kerry Schanaman at Kingman High School.
Every year the students from Team 60 design a game table for the students of the summer LEGO League to compete in. This year, teams at the camp were tasked with picking up pieces of trash on the table and delivering them to one side of the table. Points are given for successfully transporting different pieces of trash like glass, paper and cardboard. They also get bonus points if they can put the trash into a cup.
Lucier pointed out that all the commands for the robot are pre-programmed on the computer beforehand, and that robots have to rely on a variety of light, touch, and ultrasonic sensors to navigate the game and complete the tasks.
The theme ties in with the official FIRST LEGO League Season starting in August, titled "Trash Trek." The season is open to schools and groups nationwide.
Lucier estimates that Kingman will have two to four teams at various schools participating in the 10-week program.
For this week's camp, teams have the week to tweak and perfect their robots, with competition commencing Friday afternoon.
Regardless if the robot works at the end or not, Lucier said that the camp focuses on teamwork, learning and fun.
There was no shortage of fun for James and Margret Scholl, a brother and sister working together on a team at this year's camp. James is going into eighth grade, and Margret is going into fifth.
"It's a challenge. It's new," said James.
"It's fun to have a robot do stuff, and to have fun with the team."
Both said they are interested in joining Team 60 when they get to high school.