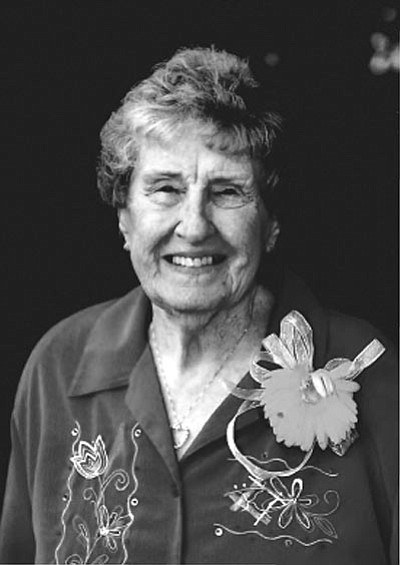 Originally Published: June 5, 2015 6 a.m.
Charlotte Marian Grimes passed away at her home on May 30, 2015, at the age of 83. She was born on Jan. 19, 1932, to Rose and John Walburg in Edgerton, Wis. Charlotte married Leroy Grimes on Nov. 15, 1949, in Minocqua, Wisc. She and Leroy started their family there and in 1951 moved to the Chandler area. They had four more children while living in Chandler. They moved to Kingman in 1958 where they were self-employed, owning and operating several local businesses over the years. They were married for 32 years.
Charlotte worked in various retail stores where she made many friends and acquaintances. She spoke with fondness of her most memorable job, working as a teacher's assistant at Cerbat Elementary School in the 1990s, where she truly enjoyed working with special needs children. Charlotte and Leroy both passed away on May 30 - 34 years apart. She was also preceded in death by her parents, sister, two brothers, and infant son Duane.
Charlotte is survived by two daughters, Jackie (Mark) Timmerman and Diane (Jon) Glenn; three sons, Jerry (Linda) Grimes, Jim (Vivienne) Grimes, all of Kingman, and Richard (Marge) Grimes of Whiteriver, Ariz.; sister-in-law and best friend, Carol Grimes of Chino Valley; 17 grandchildren; and numerous great grandchildren.
Charlotte was an avid D-Backs fan and enjoyed spending time with her family and friends. She never missed an opportunity to have lunch or dinner with her four close friends.
No services will be held. Please join the family for a celebration of Charlotte's life from noon to 3 p.m. Saturday, June 20, 2015, at her home.
In lieu of flowers, donations may be on her behalf to Donor Network of AZ, 201 W. Coolidge Street, Phoenix, AZ or AZ Elks Major Projects, P.O. Box 12668, Tucson, AZ 85732.