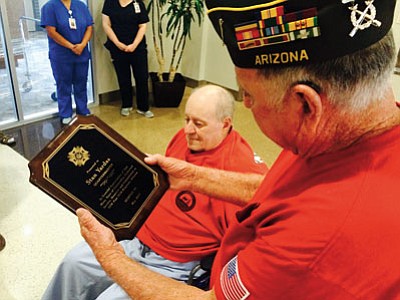 Originally Published: June 7, 2015 6 a.m.
KINGMAN - There were no ticker-tape parades waiting for Marine Corps Sergeant Stan Yardas when he came back from Vietnam in 1965.
The anti-war sentiment hadn't yet boiled over, sparing Yardas from disdainful treatment that many Vietnam warriors were subjected to in the late '60s.
So when the elevator door opened on a recent Friday at Hualapai Mountain campus of Kingman Regional Medical Center, where the Vietnam veteran is undergoing acute rehabilitation following surgery on his compressed vertebrae, Yardas was overcome with emotion to see 25 of his comrades from VFW Post 3516 waiting in the lobby, saluting him as the staff rolled his wheelchair onto the floor.
They were there to commemorate his 22 years of service to VFW, currently as the post quartermaster, and to celebrate his 72nd birthday. His cake was decorated with the Marine Corps emblem and motto, Semper Fi, Latin for "always faithful."
"I'm shocked," Yardas said, tearing up on several occasions as VFW members lined up to shake his hand. "When I got off the elevator, I couldn't believe what I saw. All these people ... I didn't know what was going on."
Medical staff had told Yardas he was going downstairs for some "group activity."
It was indeed group activity. One vet came from the Chloride VFW. Another, Jim Krause, joined the Kingman VFW last year from Bullhead City and said he didn't really know Yardas very well. He just wanted to thank him for his service.
Fellow Marine Gary Wilson was there. After two years of seeing each other at VFW Post 3516, Wilson and Yardas started talking about serving in Vietnam and learned they had gone to the same radio relay class in San Diego and were on the same transport ship. They ended up about 50 miles apart in Vietnam.
VFW Post Commander John Trylch met Yardas at the elevator with a VFW T-shirt to wear over his plastic cast, saluted him and shook his hand.
"We need to thank this great Marine for his service to America," Trylch said. "With God as my witness, I've never met a greater man. I'll always have your back."
As quartermaster, Yardas handles finances and balances the books to the penny nearly every month, Trylch said.
"He takes care of the money, the armory. He pays in and out," said Vince Correa, who sang "God Bless the USA" for Yardas. "He's a very important guy. If he says 'no,' we don't get the money. He pays the taxes, takes care of the bugs, pest control. It's a big responsibility."
The road to recovery is going to be long, Yardas told his supporters, but the doctor said he would walk again. Yardas said he didn't realize how serious his injury was until they found out what was wrong, flew him to Phoenix on a helicopter and operated in two hours.
Yardas was among the first Marines sent to Vietnam to protect the U.S. air base at Da Nang, and said he's glad for doing what he did.
"When I came home, things hadn't gotten messed up yet," Yardas said. "I guess I came back too early to be treated badly. I guess it was just a reflection of the time."
Click for home delivery with comics, grocery deals, inserts, TV listings, coupons and more