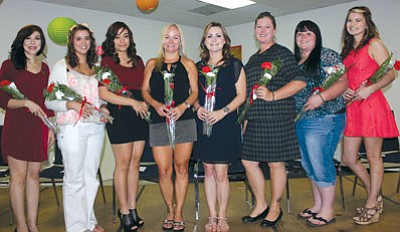 Originally Published: June 7, 2015 6 a.m.
KINGMAN - Jessica Robinson said she decided to become a surgical technologist because the profession seemed interesting to her.
Robinson was one of surgical technology students who was awarded a pin by Mohave Community College to signify their completion of the program. The students received their pins during a ceremony on May 14.
Of the students, four are from the Bullhead City area, two are from Lake Havasu City and two - Brandice Johnson and Jessica Robinson - are from Kingman.
Surgical technologists prepare the operating room sterile field, assist with patient positioning, and prepare and drape the operative site. They pass instruments, drains, sponges and dressings to surgeons.
They know the name and function of each instrument, anticipate its use and pass the instrument without being asked. They play a critical role in maintaining the integrity of the sterile field.
MCC offers an associate of applied science degree in surgical technology, as well as a pathway for certified surgical technologists to earn an associate degree online. According to Arizona Labor Statistics, surgical technologists earned more than $21 an hour, on average, in Mohave County in 2013.