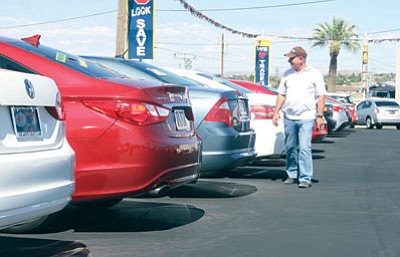 Originally Published: June 9, 2015 6 a.m.
KINGMAN - Jim Hill taught his son and daughter a thing or two about the used car business before he retired in 1991 and passed away in 2010.
"He taught us customer service is most important. The customer is always right," said Mike Hill, who now runs 66 Auto Sales with his sister, Renai. "Don't sell a car that you wouldn't sell to a relative and stand behind what you sell. If you tell somebody you're going to do something, do it."
66 Auto Sales, at the corner of Route 66 and Stockton Hill Road, is celebrating its 40th anniversary June 19-20 with a barbecue, live entertainment and prize giveaways.
The owners are serving Red Neck's Southern Pit barbecue with live radio remote broadcasts each day. The Kid and Nick Show entertains from 3-6 p.m. June 19, with Brad Johnson and the Killin' Time Band playing 2-5 p.m. June 20.
Originally from Seattle, Wash., Jim Hill sold cars in the late 1950s and got into thoroughbred horse training, his father's line of business. One of the horse owners opened 66 Auto Sales in 1975, and when he died of a heart attack, his widow asked Hill to come to Kingman and run the dealership for a while.
"He started with three or four cars and ended up buying the Chrysler dealership and selling it to Martin Swanty and then going back to used cars," Mike Hill said. "That's always been his passion."
66 Auto Sales won 1990 National Quality Dealer of the Year from the National Automobile Dealers Association and was a finalist for the Better Business Bureau's Ethics Award in 2008.
"I didn't like the feeling of being a franchised dealer, with someone telling me what to do," Jim Hill told Used Car Dealer magazine in 1990. "I liked independence."
New ownership
John Morotti, owner of Mother Road Harley-Davidson in Kingman, has purchased Superstition Harley-Davidson in Apache Junction for an undisclosed price.
"We look forward to carrying on the tradition of excellent customer service," said Morotti, who also owns London Bridge Harley-Davison in Lake Havasu City.
Superstition Harley-Davidson has been in business since 2004 under ownership of Bev and Mark LeResche.
Winning wines
Cella Wines of Valle Vista won first-place and two second-place ribbons at the Kingman Food and Wine Festival on May 16 at Veteran's Memorial Park.
Cella's 2013 Moscato Private Reserve took home the blue ribbon, while its 2013 Cabernet Sauvignon and Syrah were awarded red ribbons.
Taking first and two seconds says a lot about Kingman's fledgling wine industry, said Carlos Cella, who founded his winery in 2008. He made a strong showing among 13 more established wineries, most of them from the Phoenix area.
The event was a benefit for Mohave Community College Foundation.
Fixed for free
David Emerson came to the Daily Miner with a positive story about warranty service.
He bought a 2003 Ford Explorer from Colorado River Ford and Lincoln in Kingman that had transmission trouble on the highway. He took the vehicle in while it was under a 2-year, 24,000-mile warranty, but the service department couldn't find a problem. The transmission failed completely shortly after the warranty expired.
"He had brought it in on a couple of occasions and we were unable to duplicate his concern with the transmission," said Rodney Phillips, general manager of Colorado River Ford. "He came to me in April and said the transmission was completely out now."
There were broken servos inside the transmission, Phillips said. Because Emerson had previously brought the vehicle in under warranty, it was a "pretty clear decision" to go ahead and fix it at no charge and send him on his way, the manager said.
Mooyah Burgers
Mooyah Burgers, Fries & Shakes has set its sights on expanding into Arizona, with a focus on opening a restaurant in Kingman by the end of next year.
Founded in 2007 in Plano, Texas, Mooyah has been successful in Southern California and Utah with its "better burger" concept, company spokesman Andrew Stern said.
The company was listed in Entrepreneur Magazine's top 500 franchise brands in 2014 and ranked No. 12 in Fast Casual Magazine's annual Top 100 Movers & Shakers.
Realtors food drive
The Kingman Golden Valley Association of Realtors has exceeded its goal of raising $4,000 for local food banks, association executive Robin Day said.
Realtors have raised more than $5,000 and are now shooting for $6,000 in the final days. They donate anywhere from a slice of bread ($25) to a jar of peanut butter or jelly ($50) and a loaf of bread ($100).
Among agents who have made significant donations are Bob Bass Realty and Associates, Kari Jo Hill of Century 21, and Larry Burlew, Sue Smith and Mike and Steve Wagner, all with ReMax Prestige Properties. They can designate donations to St. Vincent de Paul, Kingman Area Food Bank or Cornerstone Mission.