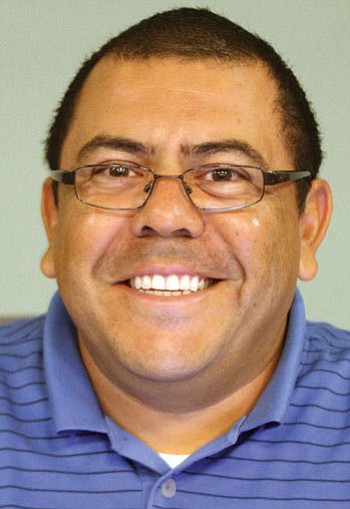 Originally Published: June 9, 2015 6 a.m.
KINGMAN - The athletic directors at the two district high schools will get a chance today to influence the Kingman Unified School District Governing Board on the issue of raising the current grade point average for students participating in extra-curricular activities.
"From what I understand, the athletic directors will be presenting information at the meeting," said Charles Lucero, president of the KUSD Governing Board. "We want to hear what they're doing now and their plans for the future. We want to make sure that if students are struggling academically, there's help available."
Lucero said he doesn't know if the board actually will vote today on an increase in the current grade point average. It all depends on what the board members hear from the athletic directors, said Lucero, noting that he believes they already are assisting students who are lagging academically.
A vote to raise the grade point average failed last month after four board members split their votes. Bruce Ricca and Jeri Brock voted in favor of Ricca's motion to bump up the grade point average from 1.5 to 2.0, or from a "D" to a "C." Lucero and Laurie Voss Barthlow voted against it. Carole Young was absent.
Lucero and Barthlow said they are not against higher standards, but want more information on how it will affect teachers and students. Principals from the district's two high schools and middle schools told the board that last year's increase from 1.0 to 1.5 caused problems that will continue with another upgrade.
Gretchen Dorner, principal at Lee Williams High School, said the current computerized system of tracking grades is difficult and time-consuming for teachers, who have many students participating in several activities. Also, students missing school because of extra-curricular activities or travel are marked absent with no explanation, which lowers their grade point average.
Some teachers are "fabulous" at staying on top of inputting the most recent grades of their students, said Tonia Cobanovich, principal at White Cliffs Middle School. But the process isn't always that easy and there continue to be glitches where students bring in their papers and their grades aren't marked.
Janelle Victory, principal of Kingman High School, said she firmly believes students can achieve academically, but teachers and administrators need to get their bearings after the first increase and figure out how to implement it successfully. One year is not enough time to do that, she said.
Don Burton, principal at Kingman Middle School, agreed, noting that extra-curricular activities are some of the "carrots" that schools can dangle in front of students who don't care about getting an education. The idea is to keep them involved and attending school, said Burton.
Ricca, who voted in favor of the increase, has long been an advocate of raising the grade point average of students participating in extra-curricular activities. In October 2013, he suggested raising the eligibility standard from a 1.0, or a "D," to a 2.0, or a "C," standard.
Not everyone agreed, and a committee was formed to look into the idea and report its findings. The committee was unable to reach a consensus. But in 2014, the board decided to raise the grade point average to 1.5, which is still a "D."
Ricca said he is still fighting for a 2.0 grade point average because as a student, he knew the required minimum and maintained it. Ricca said he doesn't believe in excuses that a student isn't good in a particular subject. If students want to participate in extra-curricular activities, they'll find a way to get the help they need.
At the May meeting, Roger Jacks, superintendent of KUSD, told the board he wanted to make sure a process was in place to give teachers time to implement the upgrade and make sure students would not be penalized for travel or sports. Jacks asked for time to come back in June with a better answer.
Click for home delivery with comics, grocery deals, inserts, TV listings, coupons and more
More like this story