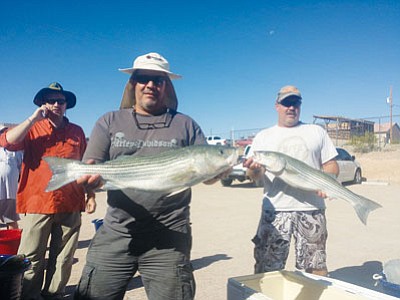 Originally Published: June 9, 2015 6 a.m.
KINGMAN - For many of the 36 teams that competed at the annual Stripe-R-Rama fishing tournament on Saturday and Sunday, it was one for the books. And it was just as tournament director Johnnie Hoeft had predicted last week, "If we get good weather, then the anglers will catch a lot of fish!"
According to Hoeft, "We have never seen weights like we did this year."
And Hoeft is right.
For the first time ever, it took at least 70 pounds of stripers to get a check for the largest overnight striper fishing team event of the summer.
In total there were 1,074 fish turned in for the event, with a combined weight of 1,508 pounds. Hoeft noted that this was just for the fish that were turned in, not the number of fish that were actually caught by the anglers.
This year the top team was from the Nevada Striper Club out of Las Vegas. Thomas Lima and his partner Eric Knickerbocker had a 40-fish limit that weighed an incredible 97.4 pounds.
This included the tournament's largest fish, a lunker that weighed 11.35 pounds. Their bag also included another huge fish that weighed over 9 pounds.
The all-time record weight for this tournament is held by Rick and Nick Olivas, who brought a Lake Mead record striper that weighed over 52 pounds to the scales to push their 40 fish bag to a reported 106 pounds.
The weather was perfect, and to some, too perfect for this annual overnight team event.
Light winds and cool temperatures allowed anglers to stay on the spots they were fishing and that produced the monster weights that were recorded by the top teams.
Seventh place was taken by Troy Nolte and his partner, Ryan Asplin. Their 40-fish limit weighed 70.6 pounds.
In 6th place were Anthony Tatzel and Dylan Vigil. They checked in with a bag of 40 fish that weighed 71.3 pounds.
Fifth place was taken by Dan Reed and Jerry Sullivan. Their bag weighed 75 pounds.
Las Vegas residents Chris Madden and Josh Holmstrom took 4th place with 75.6 pounds, while Kingman resident Gayron Hooper and his wife Diana got the third place check for bringing in 75.8 pounds.
Second place went to Fred Proudfoot and his partner Ed Walker. Their bag contained several fish that weighed over 5 pounds and they ended up with 84.1 pounds of fish.
Hoeft said that he had never seen so many stripers that weighed over 5 pounds. And there were several fish that weighed 8 pounds or more.
Toby Chandler, a member of the Nevada Striper Club, caught a striper that weighed 8.8 pounds, while Chad Burge and Ethan Hopper brought in the tournament's second largest fish, a huge striper that pushed the scales top 10.15 pounds.
There is no limit for stripers under 20 inches long on Lake Mead, and there is a 20-fish limit per angler on fish that are over 20 inches long.
One might ask where these fish end up. Anglers, who don't want their fish after a hard night on the lake, can donate them to two different groups.
Don Lash and his wife Doris are members of the Meadview Baptist Church. Each year they are at the weigh in at Fisherman's Landing to take any and all stripers that are donated to them.
This year the Lash family reportedly cleaned 475 stripers. The church will have a couple of huge fish fries this summer to share the bounty with friends, neighbors and congregation members.
Stripe R Rama tournament sponsor John Patel also takes donated fish. This year he ended up with three ice chests full of tasty stripers.
This tournament is getting so popular that this year besides a number of teams from the Nevada Striper Club in Las Vegas, that a team from St. George, Utah, came down to participate. Dan Driggs and his father-in-law Gordon Hayes didn't finish in the winner's circle, but both anglers said they had a great time and would come back again.