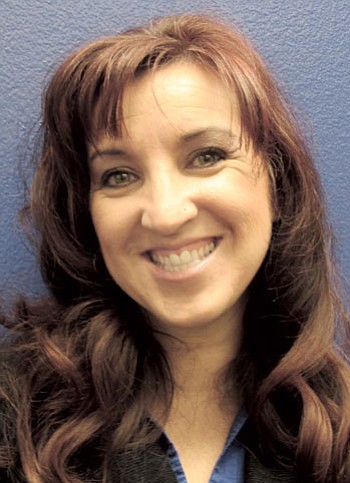 Originally Published: June 11, 2015 5:45 a.m.
KINGMAN - When Rusty Moomey was first offered the job as principal of Kingman High School this spring, he said thanks, but no thanks.
"I originally turned the job offer down because I didn't want to be away from my wife," said Moomey, 53, who lives in Colorado Springs, Colo. "But I just couldn't get the idea out of my mind. Your gut always tells you when something is a good fit, and when I sat back and looked at my skill sets and the people there, I knew I had to do it."
Moomey, who recently retired from Colorado Springs School District 11, knew the change would mean leaving his wife, Ann, behind so she could run the long-time family business of screen printing. But when she saw how much the position meant to Moomey, she quickly offered her blessing.
The educator wasn't looking for a job when he assisted his district's human resources department at a recruiting fair this spring and met representatives from Kingman Unified School District who presented the open position to him. Moomey has 12 years as a teacher under his belt, as well as 12 years as an administrator.
For the past year, he has worked with the district's assistant principals and principals on teacher effectiveness, data collection and analysis, and student learning outcomes. The district has 28,000 students attending 60 schools - including 33 elementary schools, nine middle schools, four high schools and an alternative campus containing multiple schools.
"We're excited because he comes with a lot of principal experience," said Roger Jacks, superintendent of KUSD. "He's done a great job at every institution he's led and the schools have excelled, with improvements academically and in their culture and climate. That's the direction we want to go here. One of our district goals is to have all "A" and "B" schools, and he can help with that."
Moomey will be replacing Janelle Victory, who served as interim principal from January to June 2014 and as principal from July 2014 to the end of this month. Moomey said he knew a little about Kingman from visiting 25 years ago, but the city has grown a lot since then. He will return next week to locate a place to live, then take office July 15.
Moomey said he specializes in turning schools around, and he was instrumental in reopening Galileo School of Math and Science, where he was the middle school's principal for two years, and turning it into a high-achieving school. He also improved Mitchell High School, where he was principal for three years, and raised it from being a low-performing school.
It takes three components to make a successful school, said Moomey. They are climate and culture, discipline and academic achievement. Moomey said KHS staff has worked diligently to improve all three areas, but the school's "C" grade still needs to increase. The letter grades have been given to schools each year since 2011 by the Arizona Department of Education and are determined by students' academic growth and performance on tests.
"I'm excited about coming to Kingman, because it's always fun to go somewhere and deal with new challenges," said Moomey. "There's a lot of opportunity, and my goal will be helping teachers do a better job and showing students how to get in line with what is expected from them."
Victory, whose last day is June 30, has chosen to step down from KHS leadership and will be a reading specialist working with kindergarten through fifth-grade students at Kingman Academy of Learning. Victory said her family's needs - she has two daughters, one a freshman and the other a fourth-grader - played a big part in her decision. Her first day is July 30.
Her husband, Tony, also has resigned from KUSD, where he served as principal at Cerbat Elementary School. He will be a teacher and data specialist at Mohave Accelerated Learning Center in Bullhead City.
Victory said the career move is a big change for her and she will miss being at KHS when the doors open again. But she also is looking forward to a new challenge that will offer her more options with her family. Victory said she sees herself returning to administration again - someday.
"This was the best work I've done in my career," said Victory, who has been with KUSD for 14 years. "I focused on building community and reminding everyone how great this school is now. And I made a lot of progress in improving the culture and climate of KHS. It won't work if we don't have that foundation to build on."
Strong school administration is important, said Victory, because teachers need it to navigate constant change and do their best. Students need it so they know their leader supports them and is concerned about their futures. Victory said it's the kingpin to a successful school.
"I've met the new principal and we've talked about our vision for KHS," said Victory. "He has a lot of experience and will be good for the school. I hope he finds a love and passion for the KHS blue and gold. The students knew I cared and would do whatever it takes to help them. The bottom line is that they don't care what you know until they know that you care."
Click for home delivery with comics, grocery deals, inserts, TV listings, coupons and more