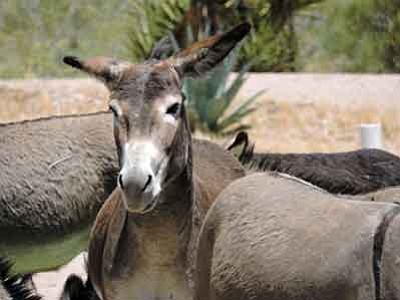 Originally Published: June 12, 2015 10:43 a.m.
Before anyone decides to dive headfirst (metaphorically speaking) into my most recent blog, I understand the focus of my prose I'm broaching will cause some to snap at me like a chicken picking at bugs.
I can just see the onslaught of negative comments shooting toward me like opening day of duck hunting season when the first majestic birds wing their way over a hunter's blind nestled adjacent to a lake or a river.
Most understand you can't make all of the people happy all of the time, but I attempt to make a few happy most of the time. My blogs normally attempt to entertain, inform, educate, to inspire others to think and, of course, debate. However, there are times I must step up onto my proverbial soap box and speak my mind for all to hear, especially when it comes to a lack of commitment by certain government agencies to do their jobs. Oh well, if I can't make them happy all the time with my columns, too bad, and they can choose not to read my stuff. The aforementioned is so simplistic and a truism. It is my philosophy of life itself, journalism and my thought process.
There are those opinionated naysayers, self-proclaimed experts and self-promoters who can't help it. They will attempt to push their thoughts, agendas and opinions on me and others. I guess it is their way of life - negativity.
It is an inevitable factoid people will spew their rhetoric and beliefs on the comments section on KDM bloggers' forums. Hey, at least they have to possess a Facebook page identifying them and they can't hide behind the veil of secrecy or anonymity anymore. That in itself is Godsend and in my opinion, the decision by the KDM's editorial staff to not allow comments from individuals unless they have a Facebook page was a great maneuver.
Hooray for the KDM, and hopefully other media outlets will follow suit! I have been so annoyed with individuals attacking someone or something on the various comment sections involving stories, social media outlets and blogs, but they didn't have to use their real name.
Yep, many of them like to hear themselves talk and I'm normally a good listener. However, their comments are mostly self-serving and they will always attempt to drive home their point of view as if they were driving a wooden stake into my chest.
Certain individuals will probably make obnoxious and demining comments about my current blog. Oh well, everyone has their own opinion and I can't fault them if they chose to make them just because I got "under their skin." That is what our First Amendment Rights are all about.
Yes, there are some who probably only have 18 years of schooling - that's nine in the first grade and nine in the second grade; they got kicked out of school for not shaving and/or for smoking behind the football bleachers. Because of this, many of them are actually unaware of what the First Amendment Rights really mean.
For edification, the First Amendment guarantees freedoms concerning religion, expression, assembly, and the right to petition. It forbids Congress from both promoting one religion over others and also restricting an individual's religious practices. It guarantees freedom of expression by prohibiting Congress from restricting the press or the rights of individuals to speak freely. It also guarantees the right of citizens to assemble peaceably and to petition their government. The First Amendment specifically states, "Congress shall make no law respecting an establishment of religion, or prohibiting the free exercise thereof; or abridging the freedom of speech, or of the press; or the right of the people peaceably to assemble, and to petition the government for a redress of grievances."
OK, I know there are those out there in cyberspace who are now thinking, "Come on Butch, could you please get to your point of this blog instead of being verbose."
This blog was "born out of the ashes" of Facebook because a couple of comments were made by certain individuals (they will remain anonymous) on my personal Facebook page after I posted a few wonderful photos my wife took of the cute critters that visited our yard that include burros.
My wife is a very wise person and suggested that I should just delete their comments on my Facebook page (I do have that capability and right to do so if I choose). She asked me why I would "entertain some of the idiots." Needlessly to say, she hadn't seen the comments made by them on Facebook and what was posted, but in her infinite wisdom, she can sometimes be extremely opinionated.
One word sums up what this blog is all about - BURROS. Those cute, four-legged, small donkeys inhabiting Mohave County have a robust population in the Black Mountains. Government officials have estimated the burro population is rapidly approaching 2,000 residing just in the Black Mountains.
When I posted the photos my wife took, the comments started to flow in. Most of them were positive in nature, but two individuals jumped on the band wagon and posted comments about the burros that inhabit our area. One individual said, "Yeah, but that doesn't stop them from bring (sic) the most destructive non native, feral exotic animal in the desert when it comes to native vegetation!" Another went on to elaborate, "No debate here! I've been here since 1972 and have watched what has happened in the Black Mountains and other areas that have suffered with the BLM's MISMANAGEMENT of these feral exotic critters! I personally think that NATIVE wildlife, mule deer and desert bighorn sheep, should be the PRIORITY of Arizona's citizenry. Now I'm not advocating the extirpation of burros, just saying they should be MANAGED with priority to NATIVE wildlife!" The aforementioned comments were taken verbatim (capitalization of complete words included) from my Facebook page.
Most people don't realize burros were brought to Arizona by human beings, specifically miners and prospectors who used them to pack their equipment to and from the mines they were working. Yes, even the U.S. Government was partially at fault. They too used burros as pack animals. When the miners decided to head to the California Gold Rush and the military felt there was no longer a need for the burros, they released them into the wild. Granted, some of them had previously escaped captivity, but those numbers, according to research, were extremely low.
It isn't the fault of the burros they are living here in the desert; blame it on human beings. Granted, the prolificacy of the burros has caused concern by officials with Bureau of Land Management (BLM), National Parks Service, Arizona Game and Fish, Mohave County Livestock Association, Arizona Desert Bighorn Sheep Society, Mohave County government, hunters (I am sorry; I guess I should call them sportsmen) and other high muckety-mucks from various not-for-profit organizations such as The Sierra Club and the International Society for the Protection of Mustangs and Burros. The list is actually much too long to mention all by their name.
The abovementioned group of concerned individuals, officials and organizations got together for a series of meetings that lasted for about three years discussing "Manage the Black Mountain ecosystem in a cooperative manner which, over the long term, would result in the enhancement of the area's resource values," and they collectively decided upon a plan that could be implemented. According to hunting and fishing guide, and great outdoors expert Don Martin, who represented the Mohave Sportsman Club during the meetings and who has written numerous articles about the subject, indicated the group decided to implement a series of goals, actions and objectives.
In the end, the group set population levels of animals; both native and feral. Of course, there were many more subjects they discussed to include an allocation of the annually produced forage in the Black Mountains for the four-legged creatures. The allocation involved a specific percentage of public land forage for livestock (cows and horses), bighorn sheep, burros, and the remaining 50 percent was reserved for soil and watershed enhancement, physiological needs of plants and smaller species.
That problem as I see it is kind of hard for the various agencies to continually and effectively monitor how much vegetation the various groups of animals eat. Many concerned residents believe they will see the BLM coming out with a fluff media release asking for assistance in monitoring the eating of vegetation by the various animal groups.
I could just see it; a media release by BLM saying, "Wanted, volunteers to sit atop the various mountain peaks for hours at a time with binoculars to 'glass' the mountain canyons and meadows." Many wonder what will happen if and when BLM determines one particular group of animals eat more than what is allocated to them. Maybe they will send out the "native vegetation critter control law enforcement" patrol to arrest the particular animals. I don't think so because the BLM has traditionally failed in their duties to effectively do their job and has wasted taxpayer funds while allegedly being good stewards of our lands we've entrusted them with.
The group of government agencies, non-profit organizations and civilians who attended the meetings also set population standards for the animals, to include how many cattle can graze in a particular area. They also decided the population level in the Black Mountains for the burro herd would be kept at 478 animals - a failure on BLM's part to do their job.
Another program BLM previously had about 10 years ago was to pay the local ranchers between $25 and $30 for each burro they captured. The program was designed that if burros wondered into the cattlemen's pens, they could basically shut the gate to capture the burros. The ranchers would then either transport the burro to the BLM's temporary holding facility or BLM would drive out to pick up the burros that had been captured. The ranchers were not allowed to head out into the desert in search of burros in order to supplement the income; they could only capture the burros in their pens and corrals. For whatever reason, the BLM discontinued that program, according to a rancher who asked to remain anonymous.
According to the rancher, the BLM now likes to use the more expensive method of rounding up the burros. They spend more than a million dollars for renting helicopters to herd the burros into containment areas instead of paying the ranchers a minimal fee for the same purpose.
Burros are not the only targets for BLM. They went after a rancher who had an allocation to graze 150 cattle in a specific area of BLM managed land. When the BLM learned the rancher had about 400 cattle on the grazing area, they took his grazing rights away from him and designated it as a "no grazing area" which that designation remains today.
A while back, BLM decided in their infamous wisdom that the burro and wild horse pens that were located on Route 66 northeast of Kingman were inadequate, so they chose to relocate them to Shinarump Drive in Golden Valley. More than a million dollars of taxpayer funds were spent building the elaborate facility and to also sink a well.
Then BLM decided to tear down the new facility once completed and they moved the resources to Florence, adjacent to the state penitentiary, in order to teach the prisoners how to break wild horses.
BLM did leave a couple of fences up at the Shinarump Drive location, in my opinion, as a façade for people's thought process and perception about the waste of taxpayer funds on that project. They haven't ever used the Shinarump Drive pens for which they were designed for. (Note: On several occasions, I spoke with various employees at the BLM Kingman Field Office, also left several telephone messages with the head guru of the local wild burro and horse project, requested information about the cost of both movements of the pens, and never received a return call). It is as if they didn't want anyone to know they had wasted that much taxpayer funds on the abovementioned decision.
A property owner who owns a about one-half section (320 acres) of land south of the Secret Pass area in the Black Mountains is a prime example of the thought process of BLM. One BLM employee once stressed the property owner should give them the land because, "We (BLM) can take better care of the property."
An Arizona Game and Fish Department recent media release covering the burro dilemma was sent out the various media outlets. The release said in part, "An alarmingly large and rapidly expanding burro population is damaging wildlife habitat, crowding out wildlife species and incurring costs to state and federal taxpayers, according to testimony at the May meeting of the Arizona Game and Fish Commission in Bullhead City."
In addition to the animal's impact to other species and habitats, Arizona residents are also being impacted by an over-abundance of burros and the BLM has sat back and not done nothing recently about limiting the burro population.
"This is a significant issue that is having a direct impact on our community - and others around the state - and must be resolved," Bullhead City Mayor Tom Brady said. According to Mayor Brady, whose town abuts up to the foothills of the western edge of the Black Mountains, "Due to a lack of proper management, the population of burros is now expanding at an alarming rate and is creating a public safety and ecological concern for our residents."
The AZGFD media release went on to say, "In the Black Mountains between Kingman and Bullhead City, for example, BLM resource management plans call for a maximum population of 478 burros, but the area currently has between 1,746 and 1,827 burros - almost four times the allowable limit. Other parts of the state have burro populations more than nine times 'appropriate management levels' established by Congress and administered by the BLM."
"We are now in a position where an over-abundance of a single, non-native, feral species now outnumbers our native iconic bighorn sheep in the Black Mountains," said Commission Chairman Robert Mansell. "Burros are having a negative impact on our fragile desert ecosystems, competing with sensitive wildlife species for forage and water, and are destroying desert vegetation. As the agency responsible for conserving Arizona's wildlife, that's very concerning and indicative of a larger problem that must be addressed."
Remember, the BLM is supposed to be good stewards of our lands we've entrusted them with. The land is ours and not the personal property owned by BLM. Maybe it is time for the Arizona state government to demand all BLM lands within its boundaries to be turned over to the state's management. The state taking care of public lands can't be any worse than the dismal performance by the BLM.
If people have questions about BLM's projects in Mohave County and other areas of Arizona, contact BLM Kingman Field Office at (928) 718-3700. If you feel you can't get any answers at the BLM Kingman Field Office, call the state office of BLM at (602) 417-9200.