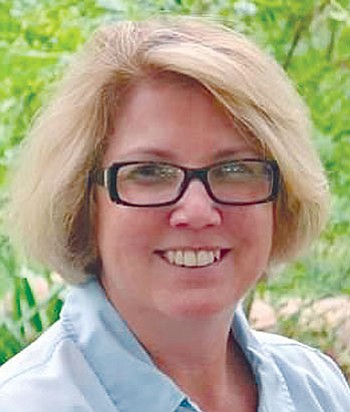 Originally Published: June 15, 2015 5:46 a.m.
KINGMAN - Virginia Gross showed up last week at the Kingman Unified School District Governing Board meeting just to make sure her voice was heard.
Gross, who lives in Kingman, wanted to encourage the board to let online students who don't attend KUSD schools continue to participate in sports and other extra-curricular activities. Her 16-year-old son, Nicholas, is a member of the district's chess team.
"There's not much opportunity to play chess in Kingman," said Gross, noting it takes five players to form a team. "So we'd like Nicholas to remain a part of the district's chess team. But we're worried about whether he'll be allowed to and we've been thinking of other options for him."
Nicholas, a junior who was home-schooled from second to seventh grade and became an online student in eighth grade, has been playing on the chess team since he was a freshman. He is the team's top player and teaches other students how to master the game.
Gross said being part of the chess team has been good for Nicholas, because he gets the opportunity to hang out with teenagers who share his interest in chess. He also has learned how to raise money for chess competitions that include an overnight stay.
At the meeting last week, the board agreed to go back to the district's attorney, C. Benson Hufford with Hufford, Horstman, Mongini, Parnell & Tucker in Flagstaff, and tell him the district wants to continue grandfathering in online students who have been participating in programs at KUSD. The board also wants to refuse any new online participants.
The board will get the attorney's recommendation and discuss it at the next meeting, which is slated for 5:30 p.m. July 14 in the KUSD district office, 3033 MacDonald Ave.
"I don't like that it's taking so long for the board to decide on this," said Gross. "But I am happy that the board members are considering it and haven't shut the door on us yet. I hope the school district grandfathers them in."
The issue of non-KUSD students participating in extra-curricular activities and sports came up last fall when KUSD Superintendent Roger Jacks asked for a clarification on district policy because a student from a private school wanted to participate in football at Kingman Middle School. Jacks asked Hufford to issue a written opinion on that issue, which quickly snowballed to include online students.
Hufford said that allowing private school students to join public school sports and extracurriculars could get a district disqualified from interscholastic competition. In response, the board asked district staff to revisit its policy of allowing online students who don't attend KUSD schools to participate in school-related events.
According to the attorney's legal opinion, current rules state that:
• Private-school students don't have a right to participate in sports and extracurricular activities in public schools and the district doesn't have the authority to permit it.
• Home-schooled students in the district are allowed by state law to participate at no cost.
• Students in an accredited online school can play sports or attend other activities for a cost of $200. There's no law backing up this policy, which was recommended by the Arizona Interscholastic Association as part of a compromise with state legislators.
"This seems quite wildly contradictory because the law forces us to accept home-schooled students and we're following the AIA recommendation for online students, but we'll be disqualified by the AIA if we take private school students," Laurie Voss Barthlow, a member of the KUSD governing board, said last fall.
"I'm taken back by this. If we don't have statutory authority to let private school students play, then by what statutory authority are we allowing online students to play?"
The board asked district staff Tuesday to revisit its policy of allowing those who don't attend KUSD schools to participate in school-related events.
The AIA is the primary regulatory body for high school athletics and activities in Arizona, and it sets the policies for most sports.
Currently, there are no home-schooled students taking advantage of KUSD extracurriculars. There are seven online students enrolled in events at Kingman High School. This year, the district allowed them to participate but is seeking legal guidance about it for the upcoming school year.
Beth Gile, a Golden Valley resident, told the board this week that she is very concerned about the situation and hopes online students can continue to participate. Gile's 13-year-old son, Derek, is an eighth-grader in online school and a member of KUSD's Team 60 Robotics Club.
Click for home delivery with comics, grocery deals, inserts, TV listings, coupons and more