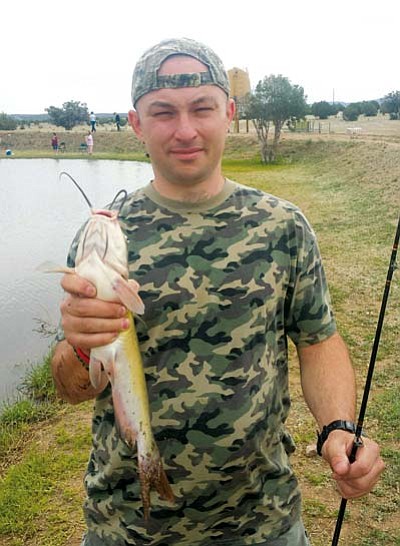 Originally Published: June 16, 2015 5:45 a.m.
Each year, the Mohave Sportsman Club and Kingman Elks Lodge No. 468 co-sponsor the Fishing For Smiles program, which is actually two fishing events for those in our community.
The program is designed to introduce and/or retain individuals into the sport of fishing, which is a long time American family tradition.
The first part of the program is for the youth in our community, those who are ages 4 to 15 years old.
Each year the MSC and Elks will have between 150-200 youth at the event, which is held at the Dunton Pond, east of Kingman. Add in the parents/guardians/volunteers and about 700 persons are involved.
While this is no doubt a great event for the area's youth and their parents/guardians, it is the second part of this annual program which, to me as a volunteer, is the most fulfilling.
It is the special needs event. It gives folks who are handicapped either physically or mentally the opportunity to go outside of the group homes and go fishing.
At least three different groups from the Kingman area participate in this event, which sees the anglers brought on site. Under the watchful eye of their assistants and helpers, they too get to go fishing and enjoy the splendor of the great outdoors.
This year there were over 45 special needs anglers out at the Dunton pond. There were probably 30 others who were there with them.
Most of the anglers were able to walk on their own to the water's edge and fish, but there was a number who were in wheelchairs who were also there to go fishing.
The Kingman Elks Lodge had their cooking crew on site, along with a number of others, including fishing committee members Bob Kay and Bill Shilling.
Scotty Dunton was there as always, along with his youngest son.
The MSC was represented by club president Ron Hooper, Laura Borden and me. This would be the first time that Ron and Laura got to attend a special needs event, and not only were they a huge help, they saw firsthand how these folks, despite a myriad of issues, love to fish.
Also on hand was Greg Cummins from the Arizona Game & Fish Department, who was there to hand out rods/reels and bait. Region 3 is a huge supporter of Fishing For Smiles and Tom Findley and his staff are to be congratulated for always being there.
Mohave County Supervisor Jean Bishop and several members of her staff were on hand and passed out medallions to all the anglers. Bishop even tried her hand at fishing and was successful.
This day was perfect - overcast and cool with a light breeze. The pond was still full of hungry channel cats that bit on the offerings of these special anglers.
There is a special feeling that one gets when helping out on an event like this. Those who help out know what I mean.
The opportunity to interact with these special anglers is something I truly enjoy and look forward to.
Each year I meet new anglers and develop special friendships. This year my fishing buddies were Steve and Daniel Kuhn.
Normally I just walk around the pond, baiting and/or replacing hooks, and taking fish off lines. But this year I was drawn to these two anglers and spent the entire morning with them.
Steve told me he likes to hunt more than fish, but he did very well. He caught and released eight hard-fighting channel cats.
Daniel told me that he really likes to fish, and that he has his own fishing pole.
This guy was serious about fishing and was the top angler out there, catching and then releasing the nine channel cats he caught.
Daniel asked me what I did and if I liked to fish. Being a fishing guide and outdoor communicator, we had lots to talk about. He told me his favorite place to fish was Lynx Lake, near Prescott.
When I asked Daniel if I could get a picture of us together, he was all for it, and put his arm on my shoulder and gave me a big hug and smile. That's the way it is with these folks - they are warm and loving and appreciative of those who help them on their outdoor adventure.
After catching a lot of fish, both of my new best friends said they were getting hungry, so after each caught one more catfish, we reeled in the lines and headed for lunch that the Elks guys and gals were making.
We had just finished up when it started to sprinkle. The special needs folks and assistants were getting back into their vehicles for the ride back to town.
The workers were taking things down and cleaning up.
I couldn't help but think that it wasn't really rain. It was God looking down, smiling and shedding a few tears for his special people, knowing that they had an enjoyable time in the great outdoors.