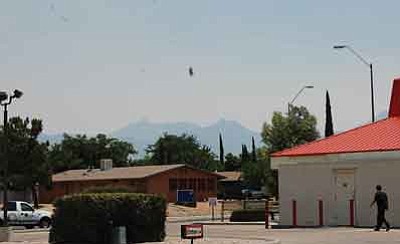 Originally Published: June 18, 2015 1:53 p.m.
KINGMAN - The smoky haze that has blanketed Kingman since early Thursday could come from one of several wildfires burning outside of the area, according to the Arizona Department of Emergency and Military Affairs.
Local fire officials were uncertain where the smoke was coming from, but there are fires burning on the Arizona Strip near St. George, Utah, and there are two other fires in the Kaibab National Forest, the Locust Fire and the Jolly Fire. There are also fires burning in the Coconino Forest near Flagstaff and in the San Bernardino National Forest in California.
"Ultimately, I'm sorry to say I cannot pinpoint the source," said DEMA spokesman Ethan Riley. Riley said a single fire could be the culprit or it could be a combination of two or more incidents. Most of the fires were caused by lightning strikes.
Whatever the cause and wherever it's coming from, residents can take precautions.
• Stay inside with windows and doors shut.
• Use the recycle or re-circulate mode on the air conditioner in your home or car.
• If you do not have an air conditioner and if it is too warm to stay inside with the windows closed, seek shelter elsewhere.
• Avoid cooking and vacuuming, which can increase pollutants indoors.
• Avoid physical exertion.
• Asthmatics should follow their asthma management plan.
• Keep at least a five-day supply of medication on hand.
• Contact your doctor or call 911 if you have symptoms such as chest pain, chest tightness, shortness of breath, or severe fatigue.
• Keep airways moist by drinking lots of water. Breathing through a warm, wet washcloth can also help relieve dryness.
• Use a high-efficiency particulate air (HEPA) filter to reduce breathing problems. A HEPA filter may reduce the number of irritating fine particles in indoor air.