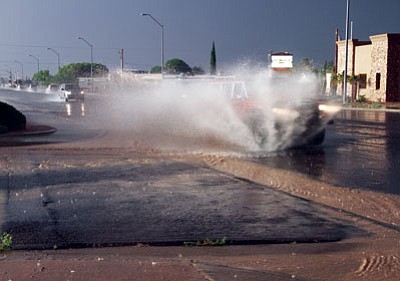 Originally Published: June 21, 2015 5:45 a.m.
KINGMAN - You've heard it before: If you don't like the weather here, stick around for an hour or two. It'll change.
That's especially true during northern Arizona's monsoon season, which officially started June 15. It signals about three months of unpredictable thunderstorms, shifting winds and vacillating temperatures.
It's expected to be less severe than last year's monsoon season, which was the seventh-wettest on record in Arizona and brought somewhere between 6 and 9 inches of rain to the Kingman area, depending on the location.
The monsoon season generally lasts from July through September, and Kingman gets an average of 3.19 inches of rain during those months, said Clay Morgan, meteorologist with the National Weather Service in Las Vegas. August is typically the wettest month with a 1.39-inch average.
"It's like a hurricane season," Morgan said. "This is the season most favorable for monsoon conditions. Just because the Atlantic hurricane season starts in June doesn't mean you can't have a hurricane in May."
Kingman got nearly half an inch of rain two days before the start of the monsoon season, bringing the June total to 1.47 inches, compared with not a drop in the same month a year ago, according to AccuWeather.
For the year to date, AccuWeather reports 4.46 inches. Last year at this time, it was under an inch.
Ann Cherry, who monitors her backyard rain gauge in Hualapai Foothill Estates, recorded 9½ inches during last year's monsoon season, with another inch falling in October. Kingman also got about 6 inches of snow on New Year's Eve.
She measured 0.8 inch of rainfall on June 9 and another half-inch last weekend.
"It was two years ago I mentioned to my husband that the winds were back and I wondered if the summer rains would return. Sure enough, we got a couple of small rainfalls that summer," Cherry said. "Last year we had continual winds all spring, which seemed to be a forerunner of all the rain we got in 2014.
"This year the winds have been hard at times and constant for weeks, so I'm hoping we get the same amount, if not more than we did last year."
The Arizona monsoon season is much the same as it is in Thailand and India, a defined period of meteorological events with very little predictability, Morgan said.
It's all in the wind
An El Nino weather system, which greatly influences the monsoon season, portends a less active season this year, he said. There's a 55 percent chance it will be below average.
"Monsoon doesn't mean heavy rains," the weatherman said. "It's a seasonal change in the wind, which brings a change in weather. What we see is a shift in the winds from southwesterly to more southeasterly in the summer."
The southeasterly winds pick up moisture from both the Gulf of California and Gulf of Mexico, two separate moisture sources to the southeast, Morgan noted.
Monsoon damage
Heavy deluges during last year's monsoon season kept road crews busy responding to flash floods and cleaning up debris. Several roads around Kingman, Golden Valley and Dolan Springs were washed out.
Public Works Director Steve Latoski met with Flood Control and Emergency Management in the first week of June to prepare for the upcoming monsoon season.
The goal is to make sure everyone has first-hand knowledge of resources and methods in monitoring and responding to monsoon incidents, he said.
They also met with National Weather Service managers from Las Vegas to understand best procedures for weather warnings.
"Public Works continues to improve and enhance our response to and mitigation of monsoon-related events," Latoski said.
His staff receives notifications from the National Weather Service for flash flood warnings, as well as alerts from the Flood Control District on precipitation and flow gauges. That allows crews to quickly respond to weather incidents as they unfold.
Frequent summer monsoons create a need for communicating accurate and timely information on road closures and openings, Latoski said. Last year, his department started using mobile application software designed for road maintenance supervisors.
They can post messages about a specific road segment closure or reopening through their smart phones. Such messages electronically generate social media posts via Twitter @mohaveroads.
Public Works also has programmable message signs on roads prone to flash flooding such as Stockton Hill Road, Pierce Ferry Road, Hualapai Mountain Road, DW Ranch Road and Oatman Highway.
Latoski said his department tries to get state and federal funding for emergency repair and restoration work. It received about $350,000 in Federal Highway Emergency Relief funds to repair two low-water crossings on Pierce Ferry Road between Dolan Springs and Stockton Hill Road that were damaged in September.
A risk you don't have to take
The Arizona Department of Transportation launched a public awareness campaign for the monsoon season called "Pull Aside, Stay Alive."
It's particularly advisable for dust storms caused by monsoon winds. Dust storms pose a serious public safety risk because they can strike out of nowhere.
"As the monsoon arrives, this year we're asking drivers to do the smart thing, the safe thing and plan ahead for possible blowing dust and limited visibility along the highway," ADOT Director John Halikowski said. "It's better to alter travel plans rather than attempting to drive through dust storms. It's a risk you don't have to take."
Tips for drivers who encounter a dust storm:
• Avoid driving into or through a dust storm.
• Check traffic immediately around your vehicle (front, back and to the side) and begin slowing down.
• Don't wait until poor visibility makes it difficult to pull off the roadway. Do it as soon as you can.
• Don't stop in a travel or emergency lane. Look for a safe place to pull completely off the roadway.
• Stay in the vehicle with your seatbelts buckled and wait for the storm to pass.
Click for home delivery with comics, grocery deals, inserts, TV listings, coupons and more