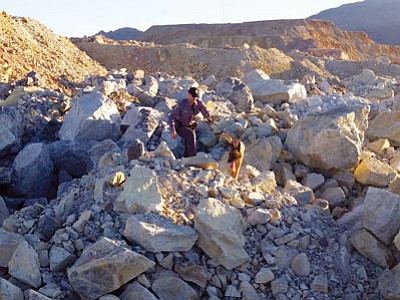 Originally Published: June 21, 2015 5:46 a.m.
KINGMAN - With help from Ecko and Arizona Department of Public Safety, three Kingman residents were arrested on Wednesday and Thursday for burglary and other charges related to an incident at Mineral Park.
JJ Lavern Zumwalt, 44, was arrested on Wednesday morning for theft of means of transportation, burglary, possession of burglary tools, possession of dangerous drugs and possession of drug paraphernalia, all felonies. Halvie Miller II, 51, and Tommy Lewis Sims, 50, were arrested on Wednesday evening and Thursday morning, respectively. Both Miller and Sims were charged with theft of means of transportation and burglary, with Miller also being charged with possession of burglary tools.
Mohave County Sherrif's Office deputies responded to call from security personnel off of North Mineral Park Road at 3:23 a.m. Wednesday morning. A security guard said he had interrupted a truck from being stolen from the mine and told deputies that he observed lights heading away from the mill. The guard investigated and located an abandoned crane truck parked on the side of the road, still running.
MCSO responded with its K9 unit "Ecko." Ecko caught a scent leading into a large pile of boulders, where the K9 was able to locate Zumwalt hiding between some rocks.
Zumwalt was taken into custody without incident. A search of Zumwalt revealed a plastic bag containing a white crystal substance, the MCSO said. Zumwalt also had a pair of industrial work gloves and two flashlights. He said that he drove in a Ford truck to the mine with friends. He was transported and booked into Mohave County Jail.
Deputies talked to another security guard who had observed the Ford truck in the area. The guard stated that he contacted two male subjects inside the truck and questioned them about working at the mine. The driver said no, and the guard advised them to turn around and head back to Highway 93.
The guard was able to get a license plate number, and after an aerial search from an Arizona DPS helicopter proved unsuccessful, deputies ran the plate and responded to the registered address at the 2000 block of Airfield Avenue.
Deputies found the truck parked at the residence of Halvie Miller at about 8:10 a.m. Miller told deputies that he was prospecting for gold with two of his friends, and that they were in the area of the mine early that morning. Miller claimed he did not steal anything and he "thought his friends were bored when they decided to drive the crane around."
Miller was taken into custody without incident and booked into Mohave County Jail. The third suspect, Tommy Lewis Sims, was identified by Miller and was found at 12:30 a.m. on Thursday morning in the 2400 block of Northfield Avenue. Deputies contacted the homeowner and received permission to search the residence, where they located Sims hiding in the bathroom.
Sims was taken into custody without incident. He denied any involvement, and was booked into Mohave County Jail.
Click for home delivery with comics, grocery deals, inserts, TV listings, coupons and more