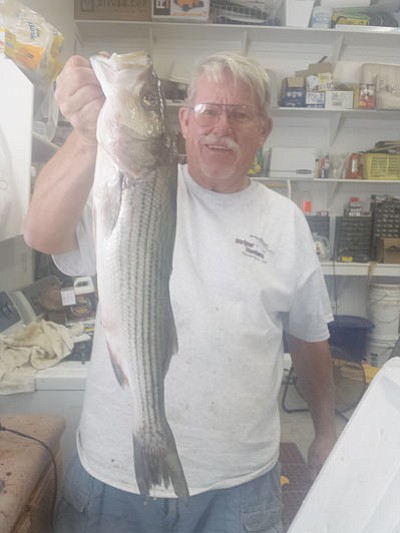 Originally Published: June 23, 2015 6:02 a.m.
I've often heard that timing is everything, especially when it comes to fishing.
A good example is the Stripe R Rama tournament that was held just a few days ago out of South Cove on Lake Mead.
I had done some pre-fishing there for this summer classic and had a found a couple of places on the lake that I was fairly confident that I would do OK at.
But as it turned out, my "Honey Hole" produced just a fair number (56) of small fish, and my partner and I ended up in 26th place out of the 36 teams.
But undaunted and knowing that I had some fishing trips on the books with clients who were coming from as far as Oregon, I knew I had to get back on the lake and look at some new areas.
On my first trip after Stripe R Rama, I was going to fish with a family from Kingman. On that trip were Adam Parrott, his father Danny and his 9-year-old son Jacob.
My summer intern, Laura Borden, also came along and gave a hand.
We tried a new spot and used some new bait and things immediately looked good.
Throughout the night we caught fish. In fact, at the house in Meadview the next morning, we counted and weighed them and found that we had caught 127 stripers. The Parrott team set a record for the Big 10 stripers of the summer at 22 pounds, 14 ounces, and raised the bar on our Best 40 Fish to 69 pounds, 8 ounces.
In 2014, the top weight of our Best 40 Fish was just over 64 pounds.
As it was, that is a good weight and would have taken 11th place in Stripe R Rama.
But then things got even better and the Parrott name on the leader board was to be short-lived.
I had a trip just two days later with the Presmyk family from Camp Verde.
Kevin bought a fishing trip I had donated to the Arizona Bowhunters Association and he was bringing along his sons, Benjamin, Joshua and Damon, to see if the striper fishing at Lake Mead was as good as I said it was.
I decide to try the same general area as I had with Parrott family, and the fishing was slow but steady. At 2 a.m. we had about 65 fish in the ice chests.
Then it was like someone turned on a feeding switch, and it turned into a wide open bite that got so fast and furious Kevin couldn't use two poles.
Not only did we catch 131 fish in the next three hours, some were a really nice size.
When that trip ended, we had 196 fish, with 187 stripers and nine channel cats on ice.
The Presmyks had caught four stripers that weighed 2 pounds, 14 ounces, but their Best 10 stripers set a new record for us at 24 pounds, 8 ounces.
Their Best 40 Fish also set a record for us this summer, weighing 78 pounds, 12 ounces, which would have taken third place in Stripe R Rama. This weight would have beaten the third place team by almost 4 pounds.
Then last Friday night I had a trip with a family from Tucson. Darrel Lippert bought a trip from the Rocky Mountain Elk Foundation that I had donated.
Darrel had fished with me before, and is a good guy and a good angler. So were his sons, as I would find out.
That fishing trip was awesome, and some new records for Striper Hunters were set - 199 fish were caught and included 194 stripers and five channel cats.
The big fish of the trip was a striper I caught that weighed 4 pounds, 8 ounces. It was interesting that in this lunker's mouth was one of our jig heads and about 5 feet of mono-filament line. Seems that his son Brandon had hooked the fish two hours previous to me catching it, but it had broken the line.
The Lippert family's Best 10 stripers weighed 27 pounds, 8 ounces, while the best 40 fish set an all-time record for Stripers Hunter, pushing the scales to 83 pounds, 6 ounces.
Then the very next night I had a trip out of South Cove with 74-year-old Bobby Tinnin, his daughter Bella Rodgers, her son Jesse Hobby and Tinnin's 12-year old grandson Blake Eli. They hail from Bagdad. The trip was a Father's Day gift from Tinnin's other daughter, Lola Chiantaretto.
This group, unlike the other anglers I had recently fished with, only used one rod/reel per person and most of the reels they used were the good old-fashioned Zebco closed face reels. I was the only angler on the boat who used two rods/reels.
We arrived at 10 p.m. at a spot that had been fished the previous night by the McCans family. Jeff and his children did quite well, filling up a giant ice chest with hungry stripers.
The action started almost immediately and stayed consistent till 5 a.m.
Back at the fishing place in Meadview, we sorted and weighed out the night's catch.
We found out that collectively we had caught 204 fish - 197 stripers and 7 channel cats.
Our big fish weighed 3 pounds, while the Big 10 stripers pushed the scales to 25 pounds, 2 ounces.
The Best 40 fish they caught weighed 81 pounds, 4 ounces.
The Lippert and Tinnin trips are the only times in Striper Hunters history that the Best 40 fish weighed over 80 pounds.
I should add that the Presmyk, Lippert and Tinnin families all took home over 60 pounds of striper filets.
Our anglers reeled in 599 fish in just three trips on Lake Mead. I think that the striper fishing on Lake Mead is going to stay good this summer.
I'm seeing a lot of bait fish right now; threadfin and gizzard shad are all over the lake. I have been using some homemade chum and Hydro Glow submersible green LED lights to attract the small baitfish, which sets up the food chain.
I got a report from the Ballard family that they also caught a lot of stripers during daylight by chasing boils and tossing crankbaits into the melee.
The Holloway family has also done very well on a couple of trips they have made up there.
So has the Lash family. Don and Doris have been averaging 16 fish a morning while trolling in the Virgin Canyon area.
I believe that the moon phase is also important, especially when using fishing lights at night. Cut up anchovies and/or gizzard shad is the bait we are using.
One thing is for sure, being in the right place at the right time is essential to being successful when it comes to striper fishing on Lake Mead.