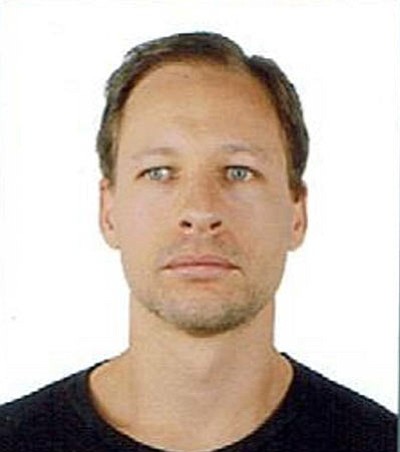 Originally Published: June 23, 2015 11:16 a.m.
KINGMAN - Chris Cranston is full of questions, and his frustration level about the lack of answers concerning his brother's recent disappearance is palpable.
"I'm at my wits end searching for answers," said Chris, who has been staying in Kingman since last week. "I'm out of ideas and I'm overwhelmed. I feel like I'm running around kicking tires, and my brother is still missing."
Sidney Cranston Jr., 40, was last seen June 16 at about noon in the area of I-40 and Stockton Hill Road. Sidney, a real estate agent, was reported to be showing an unknown property to an unknown client.
The Mohave County Sheriff's Office and the Kingman Police Department are actively investigating his disappearance and are asking the public for any information.
"We're doing everything we can and following all leads," said Jennifer Sochocki, public information officer with the Kingman Police. "That doesn't mean we're going to release all our information to the public, though."
Sochocki said officials are working to put together all the small bits of information provided to them so far. What police know for sure right now, she said, is Sidney's physical description and where he was last seen.
Sidney is described as 5-foot-9, 162 pounds, brown hair, blue eyes, and a light growth of facial hair. He was last seen wearing a gray ball cap, prescription glasses, a white sleeveless T-shirt, blue jeans, and multicolored tennis shoes.
Chris, who is three years younger than Sidney, came to Kingman from Charlotte, N.C., after the disappearance to assist in the investigation, but has been disappointed in its outcome so far. Chris said there have been several people of interest, but none have panned out.
Not only has Sidney's cell phone been "pinged" - the battery was dead - but police traced his last call and found that it came from a house Sidney's friend was working on at the time. Sidney's motorcycle was still parked there.
"A neighbor said Sidney was there and a white SUV pulled up to the house about 1:45 p.m.," said Chris. "The neighbor was working on something and looked down briefly, and when he looked back up, the SUV and Sidney were gone."
Sidney had several thousand dollars in his pocket when he disappeared, said Chris, and there has been no activity on his bank account since then.
Chris said he has hired a private investigator to find his brother, who has close ties to Kingman and is well known. Sidney also left his laptop computer, which is being held by police. Chris said Sidney's disappearance is unlike him.
"Sidney has always been super accountable," said Chris. "That's why I know he's not anywhere of his own free will. In fact, I'm just worried that he's not with us anymore."
Anyone with information is urged to contact the Kingman Police Department at (928) 753-2191, report tips online at www.kingmanpolice.com, or report anonymously by calling Mohave Silent Witness at (928) 753-1234.
There is a $500 reward for any information leading to the location of the missing person.