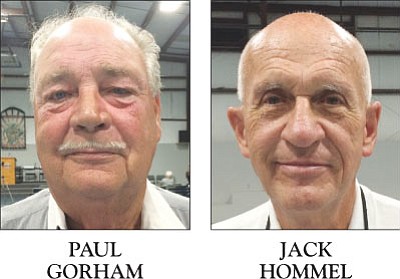 Originally Published: June 24, 2015 5:47 a.m.
GOLDEN VALLEY - After an extended appeal process initiated by River Medical, the Arizona Department of Health Services has ruled against Golden Valley Fire District concerning a district-run ambulance service in the valley.
The certificate of necessity required to operate an ambulance service was awarded to Golden Valley in March under then-interim ADHS Director Cory Nelson. River Medical appealed the decision just as the current director Cara Christ was taking over.
Under this latest ruling, River Medical will hold on to the certifiate for the Golden Valley region. The official ruling from ADHS was not available at the time of publication, but both parties were able to confirm the decision.
"We're happy at River Medical that this has come to a conclusion," said John Valentine, general manager for River Medical. "An administrative judge came to a conclusion, and the standing director has come to the same conclusion. We want to move forward. We have a community to protect."
Golden Valley Fire District Chief Tom O'Donohue said that he and his office were "processing" the decision and looking at their options.
"We have 35 days to appeal that decision. That's something that the board will take some advice on in the next few days," said O'Donohue.
This appeals process takes place toward the end of a nearly five-year pursuit by GVFD to land a district-run ambulance service in Golden Valley. The district discussed challenging River Medical's certificate as early as 2010 and applied for it in September 2013.
The district believes that an ambulance service run by the district would bring in additional revenue and would allow a higher quality of service for residents.
Most GVFD board members echoed O'Donohue's disappointment. Steve Robinson stated that he was "deeply disappointed that there's too much politics" and that "the regulators did not focus on the needs of the people."
Newly elected board member Earlene Mahar said that she was "personally disappointed" and that "together the board needs to determine what our next step will be."
Mark Vanik was concerned that citizens have "only one choice on who to call" in the event of an emergency, and chairman Paul Gorham called it a "sad day for GVFD."
Board member Jack Hommel, on the other hand, has consistently been one of the staunchest opponents to a district-run ambulance service.
"I believe it was a well thought out and clear-sighted and honest decision rendered by Christ. I am greatly relieved that the taxpayers of GVFD will not have to bear the financial burden of an ambulance run by rank amateurs," said Hommel.
Hommel estimated that the district has spent more than $750,000 in pursuit of the certificate over the last two years. He called those legal fees "utterly and completely wasteful" and that "any further expenditure in that direction is criminally foolish."
"I am of the mind to put together a coalition of taxpayers to sue individually those board members and the chief who want to pursue an appeal and spend the good money after bad," said Hommel.
The next GVFD governing board meeting is scheduled for 6 p.m. July 16, although board chairman Gorham said that they are discussing holding a special meeting before then in order to meet the deadline for an appeal.