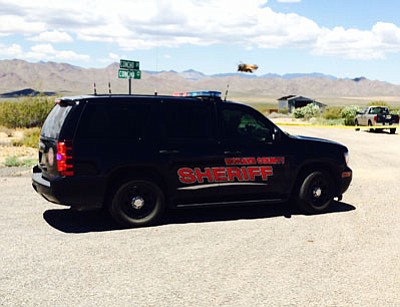 Originally Published: June 26, 2015 12:34 p.m.
KINGMAN - The victim of the bee attack in Valle Vista died Sunday, June 21, the Mohave County Sheriff's Office confirmed Friday.
John Wade was stung between 500 and 1,000 times by an aggressive swarm of bees early in the morning on June 12 while he was sitting in his truck near an abandoned shed on Concho Road.
He was transported to Kingman Regional Medical Center and admitted to the Intensive Care Unit.
Velma "Jo" Dennis said she was on her way to work when she drove by the truck and could see the bees attacking Wade through his driver's side window.
"I questioned whether I saw what I really saw," the four-year Valle Vista resident told the Daily Miner. "I turned around and by the time I got back, he opened the door and was standing next to the driver's seat. I wanted to get him on my car and drive away."
Then she saw the bees were under his glasses and he was blinded.
"The bees were everywhere at that moment. Well, I'm going to watch this guy die in front of my eyes," Dennis said.
Another driver pulled up to help, and Dennis tried to lead the blinded victim to her car, but was also attacked by the swarm. She had 25 welts on her cheek and had a secondary reaction this week.
"They were everywhere and they were so aggressive. When they jumped on my face, all I heard was 'run, run,' and we ran down the road. They were all over us. I've never seen such aggressive bees," Dennis said. "It was a terrible feeling to leave him there, but at that time, we were just swarmed."
The attack has scared many Valle Vista residents from walking their dogs, but Dennis said if they stay away from the shed, they should be safe.
"My concern is that shed. Tear it down. It's the responsible thing to do. It's taken a life," she said.
Beekeeper Johnnie Hoef was called to the scene, and said it would take several days to remove the hive. It was described as 5 feet high, 2 feet wide and 3 feet deep.