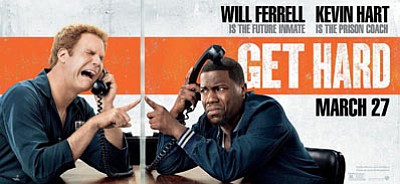 Originally Published: June 30, 2015 5:47 a.m.
DVD/Blu-Ray
• Get Hard (2015) - Will Ferrell, Kevin Hart, Alison Brie
When millionaire James King is jailed for fraud and bound for San Quentin, he turns to Darnell Lewis to prep him to go behind bars (IMDb). Ferrell and Hart have some comedic chemistry here. Still, this isn't a plot that will scoop up an Oscar anytime soon.
• Danny Collins (2015) - Al Pacino, Annette Bening, Jennifer Garner, Bobby Cannavale, Christopher Plummer
An aging rock star decides to change his life when he discovers a 40-year-old letter written to him by John Lennon (IMDb). Reviewers took shots at this film for not having enough music behind Danny Collins, and using the letter from Lennon more as a plot initiation device rather than something prolific in the story. This is a father/son redemption story more than anything else.
• While We're Young (2014) - Ben Stiller, Naomi Watts, Adam Driver, Amanda Seyfried
A middle-aged couple's career and marriage are overturned when a disarming young couple enters their lives (IMDb). Another comedy tackling middle age, this one from the director and writer of "The Fantastic Mr. Fox."
Books
• The English Spy - Daniel Silva (464 pages)
No. 1 New York Times bestselling author Daniel Silva delivers another stunning thriller featuring Gabriel Allon in his latest action-packed tale of high stakes international intrigue (Goodreads.com). This is the 15th novel in the Gabriel Allon series.
• A New Hope - Robyn Carr (288 pages)
Starting over is never easy, but in Thunder Point, where newcomers are welcome and friends become family, it's possible to find yourself again. In this brand-new story, New York Times bestselling author Robyn Carr takes us on a moving and rewarding journey as a young woman finds new hope (Goodreads.com). This is the eighth novel in the Thunder Point series.
• I Am Charlie Wilson - Charlie Wilson (256 pages)
The long-awaited memoir of seven-time Grammy-nominated artist Charlie Wilson, the iconic R&B and funk singer-songwriter-producer, interwoven with his recollections of collaborating with fellow artists such as Stevie Wonder, the Rolling Stones and Snoop Dogg (Goodreads.com).