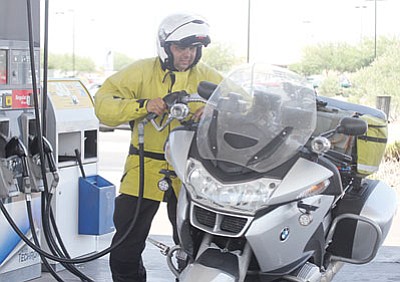 Originally Published: June 30, 2015 5:45 a.m.
KINGMAN - Mohave County ranked No. 3 among Arizona counties for having low taxes and high retirement preparedness, according to a study from SmartAsset financial technology firm.
The New York City-based company calculated the amount of money each person would pay for income tax, sales tax, property tax and fuel tax in coming up with a "tax burden" index that showed Mohave County at 74.71.
Greenlee County was No. 1 at 79.98 and Graham County was No. 2 at 76.47.
Everyone feels a tax burden of some kind, but the weight can vary across different states and counties, said A.J. Smith, managing editor of SmartAsset.
"The tax season came and went and left some of us asking ourselves, 'How did I pay so much?'" she said in a telephone interview from New York. "How much you pay in taxes affects home-buying decisions, how much you need to put away for retirement."
SmartAsset looked at the four tax categories for 3,300 counties across the nation, using the national median household income of about $53,000, median home price of $250,000 and 35 percent of take-home pay spent on taxable goods, Smith said.
"Obviously, if your home value is less, you're likely to pay less property tax," she said. "The exact number is not as important as the relative number. We created a scenario to compare apples to apples across the country."
The county with the lowest tax burden was Wade Hampton, Alaska, which was given a rating of 100 on the index.
Overall, taxpayers in Arizona face below-average income tax and property tax rates, along with very low gasoline taxes. However, the state's sales tax is among the highest in the country, ranging from 5.85 percent to 10.7 percent, the report noted. Sales tax is 5.85 percent in Mohave County, and 8.35 percent in the city of Kingman.
Other report highlights:
• On average, homeowners in Arizona pay $1,393 a year in property taxes, 17th-lowest in the nation.
• Arizona has the 12th-highest tax on cigarettes in the country. Tax is $2 for a pack of 20 cigarettes.
• Arizona collects excise taxes on alcoholic beverages, depending on the type of product. Tax is equal to $3 a gallon of liquor, 84 cents a gallon for wine and 16 cents a gallon for beer.
• There is no estate tax in Arizona.
SmartAsset's report can be used for a number of purposes, Smith said. Arizona has been one of the five fastest-growing states in the last 10 years, and low taxes play a role in attracting people to the desert.
"If you're looking for a place to pay the least amount of taxes, or some people might say we need to pay more taxes, that's why things aren't good," she said. "People can do with it what they want. The goal is to provide transparency of where you stand."
Retirement report
Retirement is the goal of nearly every working person, and putting together a plan beyond Social Security is essential to maintaining a comfortable lifestyle after the work is all done.
Mohave County ranked No. 3 in Arizona with a Retirement Readiness Index reading of 40.07, according to SmartAsset. Yavapai County was No. 1 at 41.22 and Gila County was No. 2 at 41.12.
The company reported Mohave County's median household wealth at $27,392; Social Security income at $18,627; Cost of Living at $18,544; and income tax as a percentage of gross income at 1.29 percent.
There are many regional and financial factors that can help prepare or prohibit someone from reaching retirement goals, Smith said.
"Let's look at the cost of living covering the basics, not the retirement of dreams playing golf every day and traveling every weekend," she said. "The goal is just to see how to cover the basic necessities of life. As you can see, Mohave County's average Social Security income does cover the cost of living in the county."
One of the retirement report's goals is to create an awareness and make sure people are talking about financial strategies.
"Younger people think it's far away, you can put it off. As you get older, you don't want to confront it. Sometimes you have a fear that it's going to be disappointing or discouraging," Smith said.