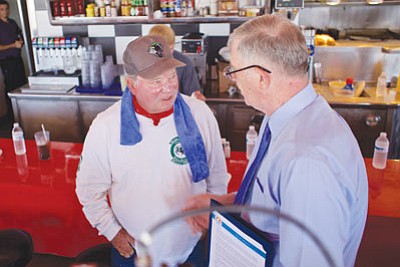 Originally Published: June 30, 2015 5:47 a.m.
KINGMAN - This may not be the final frontier, but William Shatner is still boldly going where few men have gone before.
Hitting the road on June 23 in Chicago, Shatner and an American Legion motorcade are riding their motorcycles 2,400 miles across the United States en route to Hollywood.
Their mission: To raise awareness of American Legion programs and raise funds for American Legion Legacy Scholarships, which help cover college expenses for children of U.S. military men and women who lost their lives while on duty since Sept. 11, 2001.
Shatner and his team stopped at Rutherfords's Restaurant in Kingman on Monday morning to grab some breakfast before heading up to Las Vegas. They are scheduled to end their eight-day ride in Hollywood sometime today.
In the motorcade were veterans and members of the American Legion. Included were Bill Sloan, program administrator for The American Legion Riders and a 22-year U.S. Army veteran; Debbie Bickle, U.S. Army veteran and proud 2-Blue Star mom; and Rodney Herring, a U.S. Navy veteran who served in Vietnam. His wife, Elizabeth Martin, was also with him on the ride.
Mayor Richard Anderson met with Shatner during the pit stop to present him with a key to the city.
"I'll treasure this. I'm happy to be here," said Shatner to Mayor Anderson.
"The man has done so much for veterans and his family. Mr. Shatner has given back to the military for years," said Anderson. He also confirmed that, yes, he is a Star Trek fan.
Jim Hinckley, a local Route 66 author, also presented Shatner with a plaque and made him an honorary member of the Route 66 Association of Kingman, Inc.
"They used my books to plan part of the trip. They were in his motor home. I was working with him to check for restaurants along the way, and provide some basic information," said Hinckley.
Shatner was also traveling with a documentary team to produce a film about the Rivet, a steampunk-inspired custom motorcycle brought along for the trip, and his ride in general.
Shatner was set to ride the Rivet for the duration of the trip, but the motorcycle broke down. He switched to a 2015 Harley-Davidson trike.
No air date or title has been announced for that film.
For more on the ride, visit www.legion.org or follow them on Facebook at The American Legion National Headquarters or @AmericanLegion on Twitter.