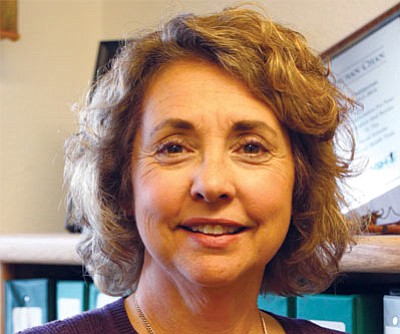 Originally Published: March 3, 2015 6:02 a.m.
KINGMAN - To Susan Chan, the words coming from Arizona Superintendent of Public Schools Diane Douglas about charter schools are nothing short of doubletalk.
"What she's been saying since she took office makes me wonder how she really feels about charter schools," said Chan, district administrator for Kingman Academy of Learning. "It seems that she's talking out of both sides of her mouth. I don't know how charter schools are going to be received any more in the state, and that's something that frightens me."
Chan was concerned that Douglas has been unclear about her commitment to charter schools since she was elected as the state's top educator. At first, Douglas took a combative stance against Gov. Doug Ducey, accusing him of favoring charter schools and using the state's new testing system to funnel more students into them.
But Douglas changed her tune last week when she announced her support of all parental options in education, including charter schools. Douglas also condemned the state's recent elimination - after only one year of existence - of the $21.5 million Student Success Funding program used for classroom spending in successful public schools.
According to an Arizona Department of Education listing of 400 charter schools in Arizona receiving Student Success Funding for that single year, KAOL received $23,456.11 in 2014.
"The problem is that starting a program for one year to reward success, then removing the funding, not only discourages districts from depending on such programs, but also weakens the effectiveness of future programs if enacted," said Douglas.
"I would prefer that if we start a program to reward schools, that we be able to continue it until we see if it is successful or not."
But while Chan in theory supports the superintendent's statement about the loss of money, she's worried there's more to it than is being said. Douglas noted that while the schools closest to where students live are not always the best choice, it's difficult for government to favor one option over another instead of letting the free market - the parents - make that choice.
Sally Stewart, spokeswoman for Douglas, said the state superintendent supports all charter schools but is concerned that Arizona is trying to pick winners and losers through the budget process while dollars are scarce. Optimally, each child would have the proper amount of funding attached to them and parents could choose wherever was best for them.
"We're sorry if the local district administrator feels that the superintendent isn't committed to charter schools," said Stewart. "That's not true. She's just concerned that if the state starts new initiatives and then takes them away, how will anyone trust us in the future?"
The state money would be shifted from the Student Success Fund, an achievement-based program created during Gov. Jan Brewer's administration to reward public school districts and charter schools for academic success, to a new Access Our Best Public Schools Fund. Ducey's executive budget summary says that high-performing charter schools could use the funding to expand existing facilities or build new ones, and it stipulates that half of the projects covered by the fund be in low-income areas.
For KAOL, that's not always an option. Chan said the district rarely qualifies for other federal grants because its percentage of students receiving free or reduced lunches is too low. KAOL has a 23 percent rate, said Chan, while most grants call for a 40 to 60 percent rate of students getting free or reduced lunches.
The Student Success Fund money has not been spent yet at KAOL, said Chan, but is crucial to helping the district stay solvent during a time of decreased funding and increased costs. Charter schools are slowly trying to close the gap in student funding from the state, although it remains about $1,100 less than what a public school gets per student.
Any money the district gets is important to it, said Chan, and the loss will hurt, especially as administrators attempt to plan ahead for the next school year.
The only thing the district can do is make "guestimates," said Chan, and move forward with the finances it already knows are coming.
"The money will be missed, and I am concerned about that because I want to protect my students and staff," said Chan. "Kingman needs the choice of having a charter school, and I believe it makes the community better. It makes it easier for parents knowing that they have other options available."
Created by the Arizona State Legislature in 1994, charter schools are state-funded public schools that contract with the state or district to provide tuition-free educational services. Their funding is based on student attendance and donations from the public.
According to the Arizona Charter Schools Association, the state has 618 charter schools that enrolled about 190,000 students this year. The association notes charter schools comprise about 31 percent of the state's public schools, and about 17 percent of Arizona's students attend them.