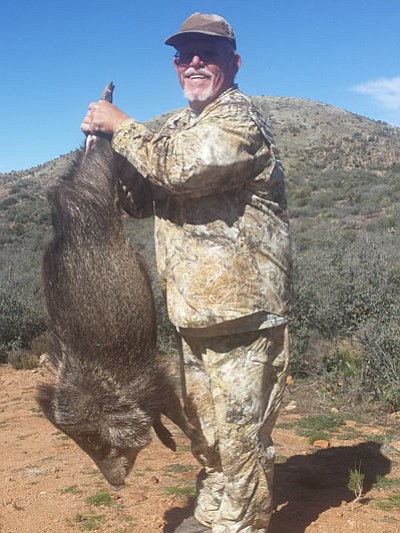 Originally Published: March 3, 2015 6 a.m.
Every year while in javelina camp in my favorite pig unit, Unit 18B, I get several hunters who will stop by and ask me where they can find these little "Gray Ghosts of the Desert."
I'll smile and look around and tell them, "They are all around you here."
Very rarely do they accept that information as the truth, and they'll end up moving down the road thinking I had just blown them off.
But the fact is, on several occasions hunters in our camp have seen and even taken pigs from the areas around camp.
This year I had decided that my sweetie, Page McDonald, and I would apply for general rifle tags, not the HAM (handgun, archery or muzzleloader) that we normally apply for.
Little did I know just how hard that general rifle hunt can be. Page and I, along with our "guide" Laura Borden, hunted hard for three straight days without seeing a pig!
And while Page had to go back to work, I decided that since my friend Jay Chan was leaving his trailer in camp to be picked up later, I would also leave mine and come back later for more hunting.
I headed back early Wednesday morning to camp, and Chan said he would come out as well to give me a hand on finding some pigs before taking our trailers home.
I left Kingman a little earlier than Jay and drove to camp, which is about 16 miles east of Highway 93.
It was a bright, sunny morning, the birds were singing and the air was fresh. And after two days of inclement weather, I felt the odds of finding pigs this day would be good.
I changed into my hunting togs and decided to start glassing from camp while I waited for Jay to arrive.
It took about 15 minutes before I found them. I first saw a large pig walking under a sugar sumac bush about three-quarters of a mile away, then spotted two smaller pigs.
The benefits of using good high-powered glass had come through again. I looked at the pigs through my 15-power Leica binoculars, and they were just tiny specks. But in the spotting scope turned up to 25 power, they were easy to find and identify.
I knew Jay would be in camp soon so I just sat and watched, and even took some photos of the feeding pigs through the scope.
Chan showed up moments later and I told him what I had found.
We put the scope on his truck's window, and in no time he had the pigs dialed in. Jay would watch and be my "eye in the sky" while I made a stalk.
I drove about a half-mile down the road, then start climbing toward the pigs.
There was little wind, the sun was almost behind me, and I had plenty of cover on the stalk. I estimated that the pigs were about 600 yards away.
About halfway up I stopped to look for the pigs. I found them but then got a shock. The battery in my laser range finder had gone dead, so I couldn't get the exact range of the feeding pigs.
I opted to move closer until I was sure I was in range with my Rock River Arms AR-15, which is chambered for the venerable .223 cartridge. I had sighted the rifle in to be dead-on at 100 yards, and I thought I was about 200 yards out when I tried to set up for a shot.
Despite big rocks in the area, I couldn't find one high enough to get the bipod steady on. So I moved up the mountain until I was sure I was about 100 yards from the pigs, who were still feeding.
I could clearly see two big sows which had half-grown young ones with them, but they got an immediate pass. I was looking for a boar, which is expendable in a herd. Usually each herd will have a pair or more of the males, so taking one out isn't going to be an issue.
Once more I couldn't get a solid rest. I wasn't going to shoot unless I could make an clean, accurate shot. I checked the wind again and moved up to within archery range, 40 yards.
The two big sows were out in an opening with the little guys, but it didn't take long to find my target, an adult boar feeding in some thick brush.
I had no option but to use my walking stick as a rest as I waited for the boar to give me a good shot.
When he did, I settled in the cross-hairs behind his right shoulder, took a breath and squeezed the trigger. At the shot, the boar dropped in his tracks, kicked twice and expired
Much to my surprise, a lot of other pigs came running out of the brush besides the ones I had seen. Jay later told me there were about 10 pigs, including two little guys, in that herd.
I had to drag the pig back down the mountain, load him up and take him to camp. I had not taken my backpack with my knives on the stalk, so I couldn't field-dress him on the mountain.
Jay and I set up the scales and weighed him. Before field dressing, the pig weighed 50 pounds, 9 ounces. After he was field-dressed, he weighed 36 pounds, 10 ounces.
And so another lesson was learned that day. Sometimes you just need to remember to take your own advice. Instead of driving many miles over rough and tough roads in that unit, just sit back and glass from camp. "They are all around us," I have told the others.
And they really are.
More like this story