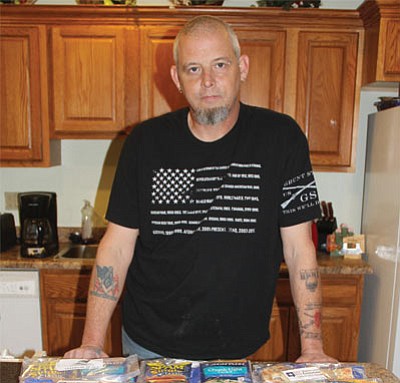 Originally Published: March 5, 2015 6 a.m.
KINGMAN - Frances Davenport has never been to the Tri-State Veterans Stand Down, but if she were physically able to attend, nothing could keep her away.
Davenport, 71, of Kingman, is a veteran of the Vietnam War, having served as a medic in the original Women's Army Corps. Since her discharge, she has endured 16 spinal surgeries that have left her disabled. And she knows the value of being able to locate and access the appropriate agencies to make her life easier.
"Veterans just can't have enough help," said Davenport. "I don't think anyone knows the hardships they have faced. Veterans endure a lot and are very frustrated, and they don't have a way to diffuse their anger when they can't get the assistance they need. Many of them have gone under the radar because they're overwhelmed."
That's why Davenport wholeheartedly supports the Stand Down, even though she can't get there.
The event, now in its third year, is sponsored by the Jerry Ambrose Veterans Council of Mohave County. It is designed to help local veterans - especially the homeless - connect to the services that can be life-changing for them.
"These veterans have risked their lives for this country," said Mohave County Supervisor Buster Johnson, noting the Stand Down will provide one-stop services for homeless veterans. "The least we could do is provide them the resources they need during hard times."
A number of Mohave County employees will volunteer their time, and a variety of local businesses will donate all types of necessities, including blankets, boots and sleeping bags. Free breakfasts and other meals will be available for all veterans attending the event.
"Stand Down is a military term that means to stop fighting and go to the back of the line to take a break," said Pat Farrell, president of the JAVC. "All the resources are there, from food to hot showers. It's the same here. We're bringing everything to one place for our veterans."
A total of 54 registered service providers will be at the Stand Down, said Farrell. Last year, 301 veterans attended the event, with 40 of them homeless and 111 needing income-based housing. Farrell said he is expecting more veterans to partake of services this year.
Currently, there are 203,000 residents in Mohave County, and 27,000 are veterans, said Farrell. A recent survey shows that the number of homeless veterans in the county is about 78, said Farrell, but he estimates that count to actually be about 160 homeless veterans at any given time.
An estimated 22 veterans nationally commit suicide each day, said Farrell, because they can't get housing, food, clothing or jobs. That's why the Stand Down is so important in Mohave County, he said, noting volunteers go out daily to check on veterans who are homeless here.
"This is a veteran-friendly county and people care, and that's why homeless veterans come here," said Farrell. "These organizations are starting to come together now to help and that's beautiful to see."
Kingman-based Veterans at Sea is one of the organizations that will be providing information and care packets to veterans at the Stand Down. The nonprofit agency, which formed last year, offers holistic programs and support to veterans, their families and caregivers.
Veterans at Sea founder Charles Black plans to give out about 100 packets of pre-packaged meat, crackers and peanuts to veterans struggling with PTSD, depression, alcohol, drugs, family reintegration and suicide. Black said he understands the needs, because he lived in a tent in the desert for a year after returning home.
"I am an Army veteran, and I was homeless for a while after I came back from Afghanistan," said Black. "It was really rough, especially having my family with me. I didn't know where our next meal was coming from, and we had to rent a hotel room once a week for personal hygiene needs."
Black said he was diagnosed with PTSD after his return, and couldn't hold a job because of accompanying anger issues. He turned to missions and shelters for help, but they weren't set up for families who wanted to stay together. Now he hopes to guide others dealing with similar issues.
Earlene Mahar also wants to help homeless veterans, and will roll out a handmade mat at the Stand Down created out of discarded plastic shopping bags. Mahar, who lives in Golden Valley and is a volunteer for the JAVC, works in the Mohave County Recorder's Office and has seen the bags stuck on cacti as she drives into work daily.
"I hate litter and what it does to the scenery, and I wish people cared more about it," said Mahar. "So when I went on the Internet, I saw that people were taking the bags and crocheting them into mats for the homeless and animals. I talked to the JAVC about it and now I have a shed packed full of bags."
Mahar said the 4-foot-by-6-foot mat is made by looping the bags together to create plyarn, known as plastic yarn, and crocheting it. The first mat she made will be displayed at the Mohave County booth during the Stand Down.
She is looking for volunteers who will help her make more mats after the event as part of a group called Mohave Matters.
"We want to help the homeless veterans and give them comfort in their time of need," said Mahar. "These mats are breathable and will keep them off the stickers and rocks while they sleep. And they will keep their clothes dry if they roll them in the mats and carry them around."