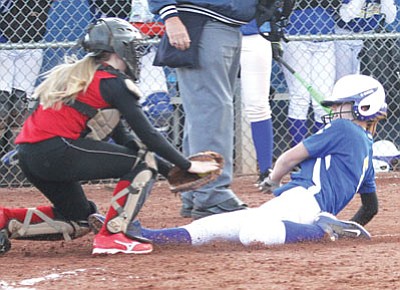 Originally Published: March 5, 2015 6:02 a.m.
KINGMAN - Kingman Academy golfers finished second through fifth and the Tigers opened their season with a win over River Valley Tuesday at Cerbat Cliffs Golf Course, 157-192.
Tristan Pitts led the Academy with a 2-over-par 38. Raphael Choi and Caleb Boyett each shot 39, and Haley Muswick shot 41.
River Valley's Austin Rice took medalist honors with a 1-over-par 37.
The two teams square off again with Parker included at 2:30 p.m. today at Los Lagos Golf Club.
BASEBALL: Academy dominates Greyhills
Ivan Avalos and Clay Benson combined to no-hit Greyhills, and the Academy pounded out 13 hits, and reached base on five walks and nine errors, for an easy win Tuesday at Southside Park, 22-0.
Avalos earned the win pitching three innings, walking two and striking out eight. Benson struck out five and walked one in his two innings of work.
Defensively, the Academy (4-4, 3-0 Division III) did not commit an error. That's a huge improvement on the 24 errors committed over five games in the Copper Classic tournament where the Tigers went 1-4 Friday and Saturday in Bagdad.
In the win over Greyhills, Taylor Thomson had two hits and three runs batted in for the Academy. Avalos, Cody Quick, Wyatt Schmidt and Jeffry Chinyere each added two hits.
River Valley edges Kingman
Kingman's Ricky Ogborn was stranded on third representing the go-ahead run in the top of the seventh inning and River Valley narrowly got past the Bulldogs Tuesday in Mohave Valley, 7-6.
Ogborn doubled with one out and advanced to third but was left on base after a strikeout and groundout ended Kingman's chance to take the lead.
Ogborn also walked twice and scored twice for Bulldogs. Chad Patrykus and Garrett Stephens each singled and scored as well.
Both teams scored once in the third inning, and Kingman (0-3 D-II) built up 6-1 lead with three runs in the fourth and two more in the fifth.
River Valley (1-0, D-III) bounced back with five runs in the sixth, and a walk and two singles in the seventh scored the winning run for the Dust Devils.
SOFTBALL: Lady Tigers win Copper Classic
After going 2-0-1 on Friday's opening day of the Copper Classic in Bagdad, the Kingman Academy Tigers posted a 16-4 win over Chino Valley and a 27-7 victory over host Bagdad to win the Copper Classic Saturday.
Academy (4-1-1) put together a 16-run sixth inning to dispatch Bagdad in the championship game.
"The whole team grew and their confidence grew as they found success," said KAHS softball coachBill McCord. "I expect greatness from these girls in the years to come. They are really starting to come together."
River Valley drops Kingman
Serenida Marquez limited Kingman to two hits and three walks over seven innings and the Dust Devils knocked off the Lady Bulldogs Tuesday at KHS, 10-1.
Kingman (1-2) got its lone run in the second inning when Taylor Olivas walked and, two errors later, crossed the plate. Olivas later singled, and Ally Applegate tripled for the Lady Bulldogs' hits.
Natalie Borgens went the distance for Kingman in taking the loss. She gave up 13 hits and four walks and struck out three.
More like this story