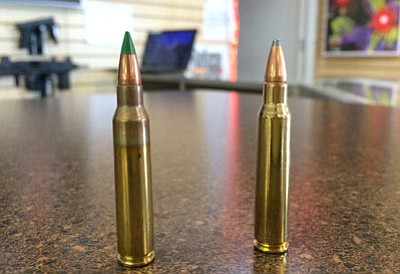 Originally Published: March 6, 2015 6 a.m.
KINGMAN - The Obama administration is considering banning a type of ammunition used in one of the most popular types of rifles because it says the bullets can pierce a police officer's protective vest when fired from a handgun.
The Bureau of Alcohol, Tobacco, Firearms and Explosives is proposing the ban of some types of 5.56 mm rounds used in widely available and popular AR-15-style rifles because the bullets can also be used in some new types of handguns. Other types of 5.56 mm rounds would still be legal to buy, own and fire from guns.
Those safety concerns are echoed by Kingman Police Chief Robert DeVries.
"We do not regulate ammunition sales locally. However, if it improves officer safety, we would be supportive of it," said DeVries.
The rule change would affect only "M855 green tip" or "SS109" rounds with certain types of metal cores. Those who already own the ammunition would be allowed to continue to possess it legally, but manufacturers would not be allowed to produce, sell, import or distribute it.
News of the potential ban has spurred local ammunition sales, with customers stocking up in the event the ban is implemented.
Jim Jett, a sales rep and NRA instructor at Bank Street Indoor Gun Range, estimates that his shop went through 40,000 rounds of ammunition over the weekend. Customers were buying other variants of ammunition not mentioned in the ATF's proposal.
"People are wondering what the administration is up to," said Jett. "There's been movement in the last eight years to ban the black rifle (AR-15). If they can't ban the rifle, they try to ban the ammunition."
Kendall Slack from The Gun Shop Inc. is seeing a similar situation at his shop. They are completely out of stock of the M855s, and their wholesalers are out for the time being as well.
"Anytime there's a crisis, people go for anything that makes them feel safe," said Slack. "There really isn't a huge difference. Any commercial rounds can go through a vest."
The logic behind the ban seems to be politically based, according to Mohave County Sheriff Jim McCabe.
"It just so happens these rounds are utilized in the AR-15 based rifle, the most popular rifle of all time and one the Obama administration has been trying to ban for years," he wrote in an email. "If you're not successful in banning the weapon, ban the ammunition it utilizes!
"It is safe to say most any rifle-based ammunition would penetrate body armor, and there are several calibers of ammunition utilized in handguns that will also penetrate. There certainly in no statistical information indicating law enforcement is largely being attacked by assailants utilizing the type of ammunition they are considering banning. This is simply an attempt to gain public acceptance in order to help law enforcement and is simply a sham."
In a letter to ATF Director B. Todd Jones last month, House Judiciary Committee Chairman Bob Goodlatte, R-Va., objected to the rule change, saying it would "interfere with Second Amendment rights by disrupting the market for ammunition that law-abiding Americans use for sporting and other legitimate purposes."
Armor-piercing handgun ammunition has been banned since 1986 as a way to protect police officers under the federal Law Enforcement Officers Protection Act. The rifle rounds now facing a ban were long considered exempt because they were used for sporting purposes, such as target shooting.
An ATF spokeswoman, Ginger Colbrun, said Monday the agency is considering eliminating the exemption now because of the production of so-called AR pistols that can fire the same cartridge.
At issue is the material in the core of the bullets. As long as the bullet's core does not contain particular types of metal, including steel, iron or brass, the bullet would still be legally available.
From the ATF's proposal: "If ammunition containing the metal content enumerated in section 921(a)(17)(B)(i), can be used in a handgun - the type of firearm most frequently used by criminals whom police officers encounter on the streets - then, from the law enforcement perspective, the manufacturer's intent that the ammunition be used for hunting or target shooting (in rifles or handguns) becomes irrelevant."
The proposal goes on to comment on handgun design, saying that when the design "is not limited to primarily sporting purposes, such as handguns designed to be carried and concealed, it may be reasonably inferred that ammunition capable of use in such handguns is unlikely to be used primarily for sporting purposes."
ATF's proposed ammunition ban has been under consideration since 2011.
Colbrun said it's unclear when a final decision will be made.
The Associated Press contributed to this report.
More like this story